Friday 1st December 2023
The Fire Safety (England) Regulations 2022, which was implemented on 23rd January 2023 sets out new fire door responsibilities for Responsible Persons of multi-occupied residential buildings. Part of these new responsibilities involves inspecting flat entrance doors and educating residents about the importance of fire doors. We explore these new fire door regulations for flats and give guidance about implementation and what is expected from the Responsible Person.
What are the new fire door regulations for flats?
From January 2023, the following fire door regulations apply to any residential building with more than 2 dwellings:
Residents should be provided with information about the importance of fire doors to ensure that they are being used correctly. Distributing our free Residents Fire Door Fact Sheet among your tenants could save lives.
Regularly inspect all fire doors (as specified by your fire risk assessment) and record evidence of the inspections. This free fire door inspection checklist can be downloaded and used as a template to record inspections. Using a Fire Door Gap Gauge will help to effectively measure gaps around the sides and top of fire doors to ensure they are within the required limits.
These additional regulations apply to buildings over 11 metres in height:
Every 3 months, the Responsible Person must check all fire doors in communal areas of the building.
Annually, the Responsible Person should make 'best endeavour' checks on every flat entrance door within the building.
What is a 'best endeavour' check for flat entrance doors?
Under these new fire door regulations, checks on flat entrance doors must be carried out once a year. The Responsible Person must therefore make a 'best endeavour' to gain consent from the tenant to enter the property. This is essential for Responsible Persons to be able to carry out their legal duty to check fire doors.
Permission to access flats must be sought in advance of the intended inspection, with at least 24 hours' notice. This should be requested multiple times. If residents are unresponsive, supplement with educational material on the importance of fire doors and new legislation to encourage cooperation. Make contact in writing, either via email or dated written letter, to keep a record of 'best endeavour' attempts to inspect flat front doors.
The importance of fire doors in flats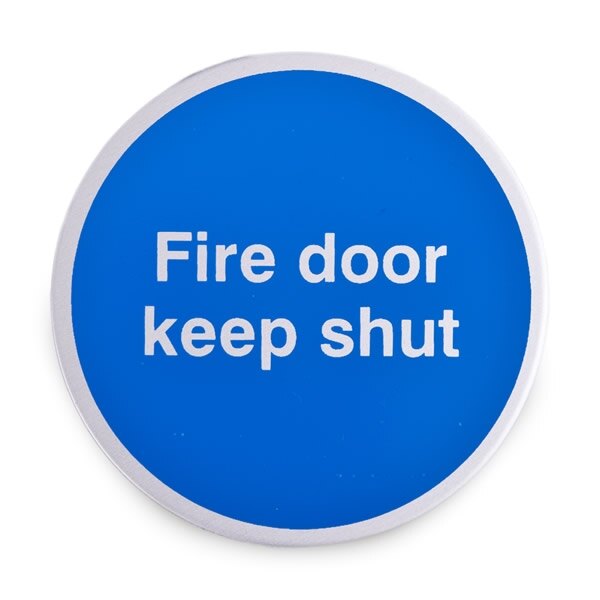 Fire doors save lives: Flats that open out into communal areas are legally required to have FD30 ratings. This means that they can withstand fire for at least 30 minutes. If a fire starts in one flat, the fire door will stop flames and smoke from spreading to communal areas and corridors. This provides enough time to for residents to escape the building safely. The responsible person has a legal responsibility to make sure all fire doors are in good working order. They must also ensure that that fire door regulations are followed at all times in the building.
Keeping fire doors closed: A fire door can only contain a fire and smoke if it is closed. Fire doors should always be fitted with a door closer to ensure that the door automatically closes after use. If residents prop open fire doors for any reason, the door will not work. This means that the building's safety will be put in jeopardy.
Educating residents on the importance of fire doors
Information about the importance of fire doors must be available in communal areas. Ensuring residents are aware of the importance of keeping fire doors shut can be challenging, especially if tenants change frequently. Displaying information in communal areas can encourage tenants to work together to keep the building safe. Ensure that new tenants have been made aware of fire safety procedures when they receive they keys, as it provides an opportunity to ask questions.
Are door closers required on flat doors?
Door closers are required on flat doors to ensure that they are shut when not in use. If door closers are not installed, or have been removed or deactivated, the door may be open in a fire. This will allow smoke and flames to spread throughout the building.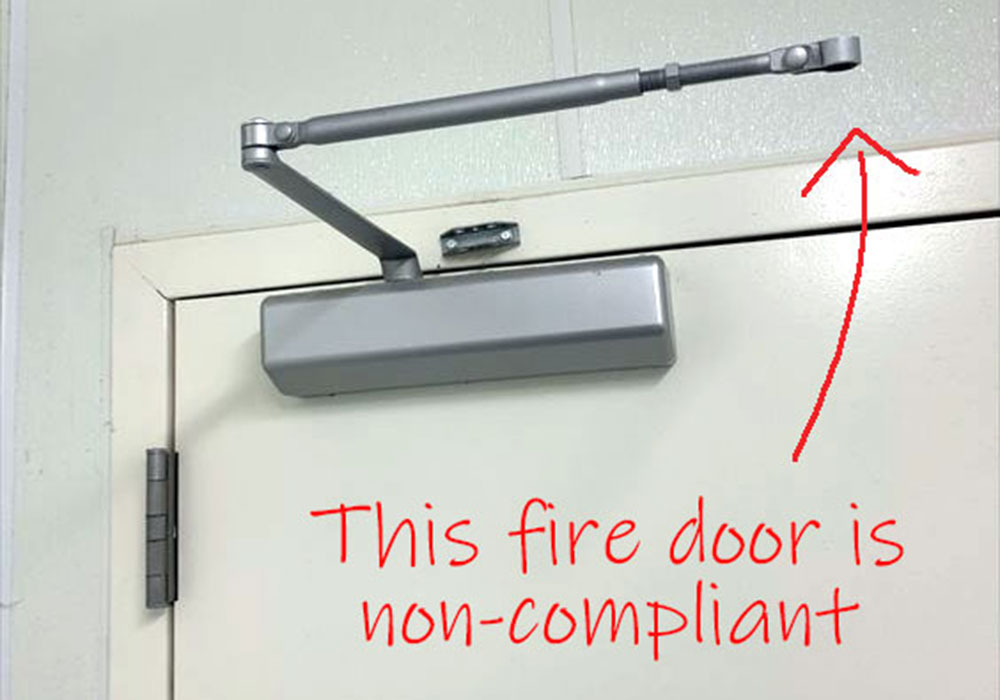 Residents and fire door accessibility issues
Due to their heavy construction and required door closer, fire doors may pose accessibility problems. This can affect disabled residents, those with impaired mobility, older people, or those with young children. In these circumstances, fire doors can seem impractical and a barrier to free movement. Where flat entrance doors are fire doors, tenants may try to find a solution to help them it more easily. Common misuse in this way involves doors being wedged or propped open for convenience, or fire door closers being disengaged.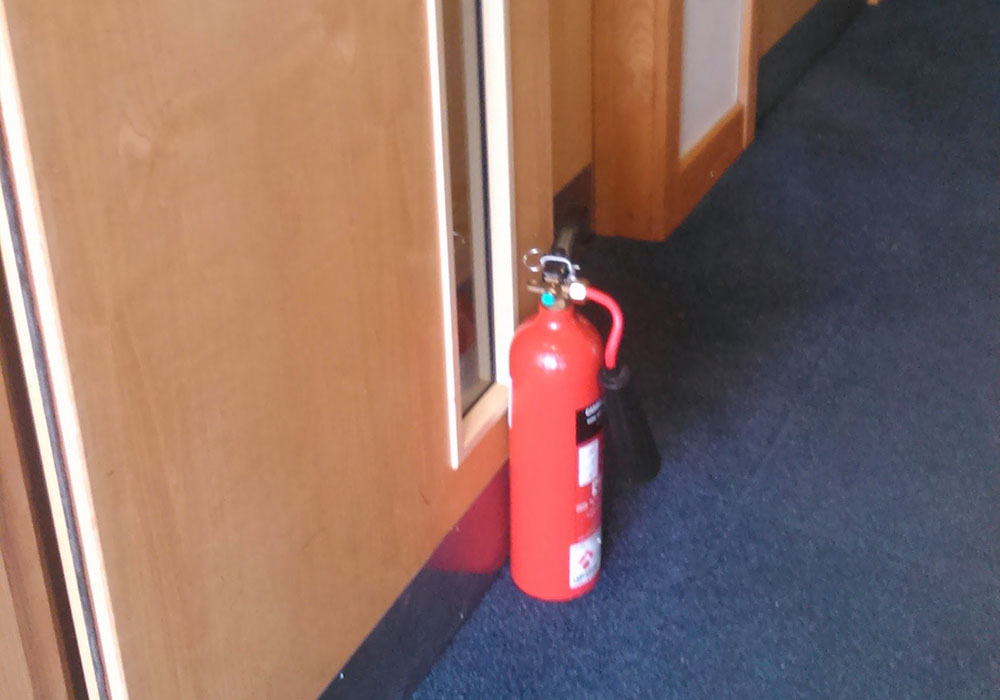 Without effective fire doors in all parts of the building, everyone's fire safety is compromised. Further to this, the Responsible Person may be liable for prosecution under the Regulatory Reform (Fire Safety) Order 2005.
Retaining fire doors in residential blocks
There are a number of solutions available that allow fire doors in residential buildings to be held open safely in normal day-to-day use, but will close the fire door when the fire alarm sounds. In BS 7273-4: 2015 Critical (Category A) areas, such as stair wells, it is paramount that fire doors are maintained and effective at all times to slow the spread of smoke and flames throughout the building.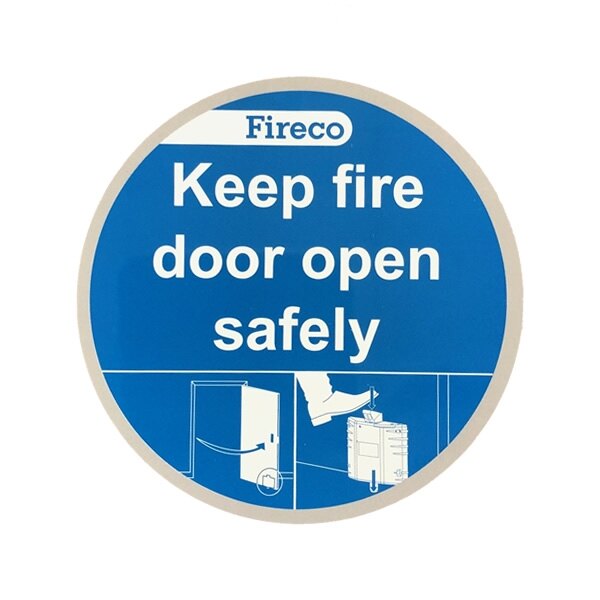 Fireco's Pro Fire Door Retainer System is one example to enable fire doors to be safely and legally held open, without compromising their effectiveness in a fire, even in Category A areas. This system can be configured with any proportion of Dorgard Pro or Freeswing Pro units to suit the needs of the building, with up to 500 devices in one system. Fire door retention improves ventilation and ease of movement within a building, which reduces temptation for residents to illegally hold them open.
This wireless fire door retainer system is operated by a control hub, which is wired directly into the building's fire alarm system. During a fire, the fire alarm is activated, and the hub signals every device in its system to release the fire doors, causing them to close. The optional InSite Site Manager cloud remote management system gives you the ability to check the system status, including the status of each individual component, from anywhere.