Wednesday 12th November 2014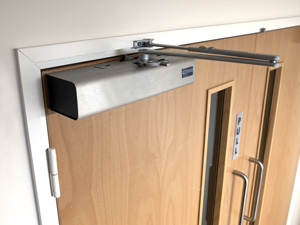 For those confined to care homes, moving freely within the immediate environment is essential for their well-being and self-esteem. However, fire regulations require that fire doors, such as those installed in gangways and often in bedrooms, are kept closed to prevent the spread of smoke and flames in the event of a fire. The hydraulic door closers, usually installed for this purpose, make the fire doors difficult to open for the elderly and those who require walking aids. Installing a normal fire door retainer to hold the fire door open against the pressure of a traditional door closer does not fully address this problem, as it still requires the fire door to be opened in the first place before it can be retained in the open position.
This is where Free-Swing Fire Door Closers would be more suitable. They allow the user to open and close the fire door like any other door – without any resistance. The door can also be left open in any desired position. If the fire alarm goes off the fire door will, of course, close and the occupants of the building are protected against the spread of fire and smoke.
Some of Safelincs' Free-Swing Door Closers require wiring into the fire alarm panel to send a signal to the closer to ensure the door is closed when a fire is detected. Our Freedor Free-Swing Door Closer on the other hand, does not require any wiring at all. Similar to the well known Dorgard, manufactured by the same UK company, the Freedor 'listens' for the sound of an alarm system and will close the fire door as soon as the acoustic signal is received. The Freedor unit is battery powered and is also suitable for retro-fitting on existing fire doors.
Harry Dewick-Eisele, Managing Director at Safelincs, explains "The Freedor overcomes the need to install a door closer as well as a retainer. It is fitted in the same position as a traditional fire door closer and deals with the entire issue of the safe opening and closing of fire doors. It is a huge improvement for care homes but also children centres and other public spaces where traditional door closers can lead to difficulties for users."
If you require any further information call 0800 612 6537 where our Customer Service Team are available to answer any questions you may have.