Tuesday 28th March 2023
Safelincs prides itself on holding the BAFE accreditation for the maintenance of portable fire extinguishers, providing a visible way for our customers to recognise the professional competence of our nationwide team of BAFE-registered fire extinguisher servicing engineers. Here we look at some FAQs about the BAFE  certification.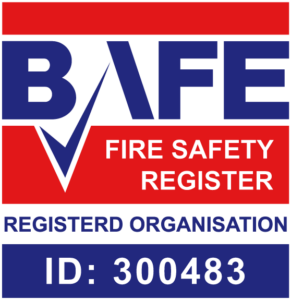 What is BAFE certification?
BAFE certification is awarded to companies by an independent third-party certificated registration body for fire safety organisations across the UK.
The BAFE accreditation logo enables customers to identify the professional competence of the company they have commissioned. This provides peace of mind that all service work undertaken by companies like Safelincs is done to the same standard anywhere in the country.
Why is BAFE important?
BAFE provides the ability to assess and certify companies against fire safety quality standards and industry best practice. Independent evidence is gathered to support any certification process ensuring compliance and competency by fire safety providers.
Why should I use a BAFE-registered organisation?
Choosing fire protection from a BAFE-certified company ensures that the services and products conform to recognised standards. This provides peace of mind about quality and compliance.
Safelincs offer a range of extinguishers, installation, maintenance, and commissioning of fire extinguishers without tying companies into a long-term service agreement. To discuss your extinguisher maintenance needs, contact Safelincs on 0800 612 4827 or visit www.safelincs.co.uk
Safelincs BAFE registration number: 1216