Tuesday 1st November 2011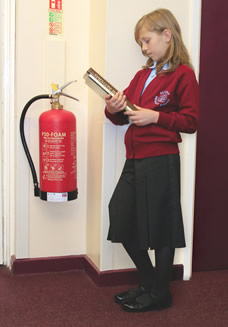 Alford Primary School, local to our Safelincs headquarters based in Lincolnshire has installed our Britannia P50 self-maintenance fire extinguishers. These extinguishers carry a 10 year guarantee and do not need a service engineer to carry out the yearly inspection.
Having a 10 year guarantee and not requiring a refill after 5 years or any engineer servicing visits for the life span of the extinguishers is a huge cost saving for schools. As budgets are always under scrutiny and with the government looking for additional cuts, the savings achieved by changing to P50 make great sense.
When we installed the P50 extinguishers in the Alford Primary School, training was given to school representatives to be able to carry out the simple yearly inspection themselves. P50 extinguishers are accepted by most insurance companies.
There is a video available to demonstrate how easy the extinguishers are to self-maintain. The extinguishers, which have an inner core of Kevlar (the same material used in bullet proof vests), are corrosion-free and are suitable for all outdoor applications as well as indoors.
For more information please contact us tel: 0800 612 6717 or visit the website https://www.safelincs.co.uk/britannia/