Wednesday 19th October 2022
With energy prices soaring and lots of businesses still feeling the effects of the Covid pandemic, many businesses and organisations are understandably looking for ways to reduce costs. When it comes to fire safety, cost saving should never compromise the level of protection in your organisation. Read our top money saving tips for businesses so you can cut costs without cutting corners.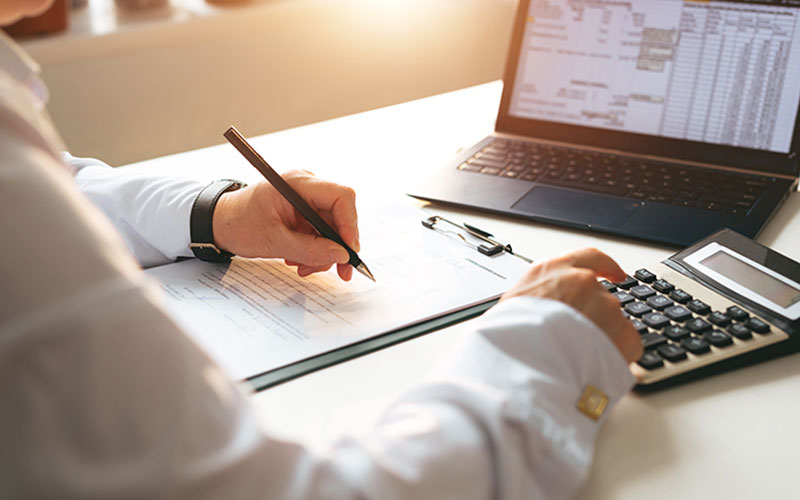 1.Switch to P50 Service-Free Fire Extinguishers
No annual service from a trained technician – Due to their unique construction, P50 Service-Free Fire Extinguishers can reduce your fire extinguisher costs substantially. Unlike traditional steel extinguishers that require annual servicing from a trained technician each year, P50 Service-Free Extinguishers only require a simple visual inspection. A member of your team can carry out this inspection and will receive free training from Safelincs at the point of installation. This eliminates your annual extinguisher servicing costs.
Longer lasting and highly durable – P50 Service-Free Extinguishers have a 10 year warranty and a lifespan that is twice as long as steel extinguishers. They can last for 20 years if they are refilled by the manufacturer after 10 years. P50 Extinguishers will not corrode – even if left outside for 20 years! This is due to the materials used in their construction.
Reduce the number of extinguishers required – Due to its superior fire rating and versatility, the P50 Foam Service-Free Extinguisher can often replace a common extinguisher combination of 9ltr Water and 2kg CO2. Making this switch actually gives you better coverage for class A and B fires and can also be used to effectively tackle electrical fires. Having one P50 Foam Extinguisher rather than the traditional combination of water and CO2 extinguishers also removes confusion about which unit to choose in the event of a fire. Having less units to install and maintain will significantly reduce fire extinguisher costs.
Free site survey, delivery and installation service – If you decide to switch to P50 Service-free Extinguishers, Safelincs will carry out a site survey at your premises, deliver and install the extinguishers free of charge. Our professional technicians will also commission the P50 extinguishers and supply and fit wall brackets with no extra charge. Your staff will receive training on how to complete the annual visual inspection and the engineer will complete and supply all relevant certification. Our team will even remove and recycle your old steel extinguishers!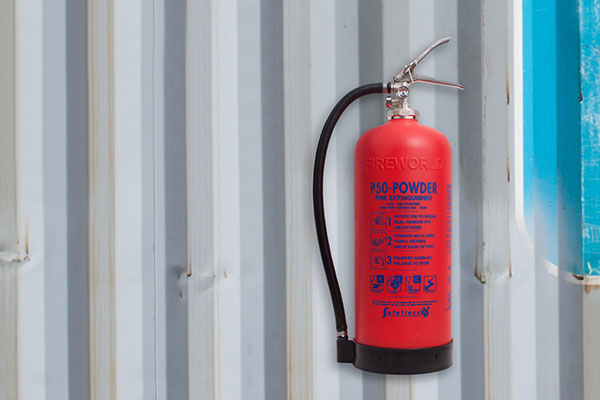 2. Install LED emergency lighting
The purchase price of LED emergency lighting has come down a lot in recent years. It is now in many cases cheaper than the cost of the traditional fluorescent bulb equivalent. Aside from the upfront cost saving, the accumulative saving with LED lighting is substantial.
With the price of electricity at a record high and continuing to rise, cutting energy usage can make a big difference to business expenses year on year. LED emergency lights such as the Eden LED Emergency Lighting Bulkhead (Maintained) are far more energy efficient. They use only 5W of power compared to the 21W used by a standard fluorescent bulb. View our LED Emergency Lighting cost for comparison article for further analysis of the amount that can be saved.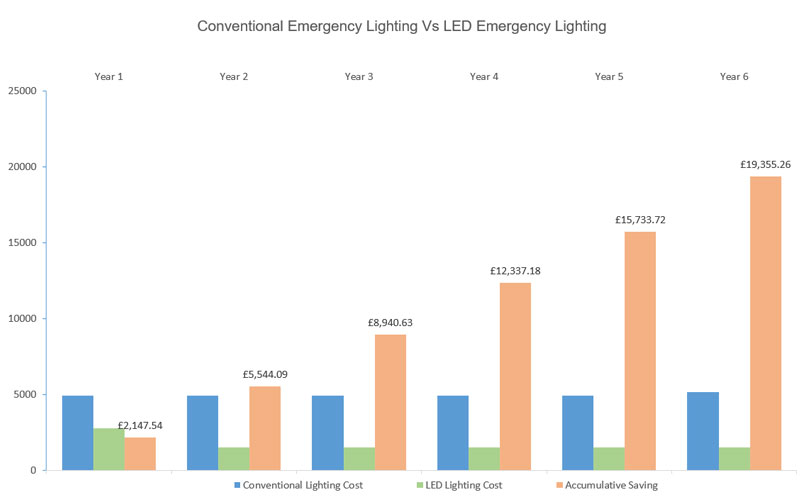 3. Carry out regular maintenance checks
Keeping your fire safety equipment maintained in good working order is a legal requirement. This could also save you money in the long run. Servicing fire safety equipment and making regular checks will uncover any issues early on that could be more costly to rectify later on.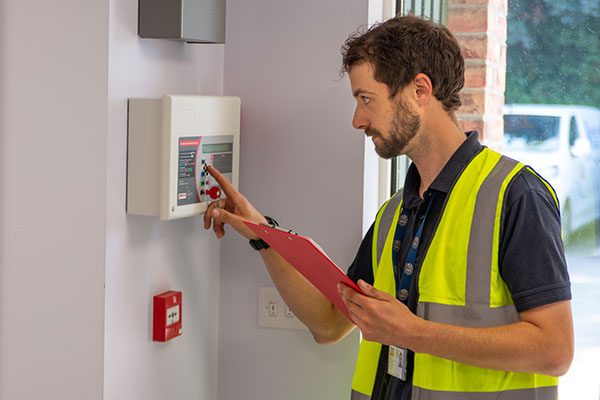 4. Choose versatile fire extinguishers
Install a broad-spectrum fire extinguisher such as a Water Mist Extinguisher and you could reduce the number of fire extinguishers you require. Suitable for class A, B and C type fires and tested for use on live electrical equipment, Water Mist extinguishers are ideal for tackling most common fires found in offices, warehouses, schools, churches and many other locations.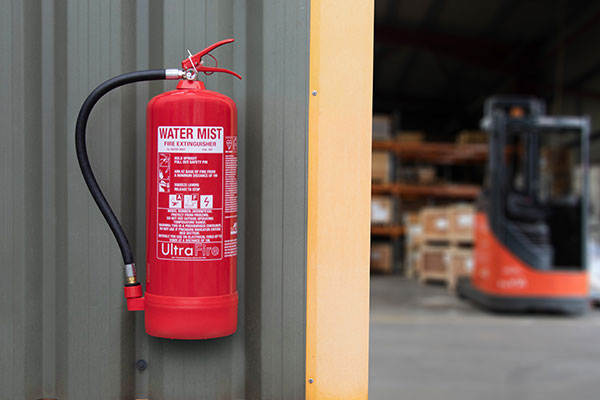 5. Take advantage of quantity discounts from a trusted supplier
Purchasing a higher quantity of equipment at one time means you can take advantage of quantity discounts. Safelincs offer a reduced unit price on many items when multiple units are purchased at the same time. It often also pays to use one trusted supplier for multiple services and equipment as this may help to reduce call out fees or delivery costs. Safelincs can provide a complete range of fire and safety services and equipment, and we would be happy to discuss your individual requirements.
If you would like to speak to our team about any of these money saving tips for businesses please call 0800 612 6537 or email info@safelincs.co.uk.