Thursday 6th June 2019
Safelincs are proud to be able to help support Evie Toombes with her quest to fund a medical horse box. Evie is an inspirational teenager with spina bifida and is a para show jumper from Skegness, Lincolnshire. She is also an ambassador for hidden disabilities and visits schools to talk to children about her hidden disability in the hope that she will give confidence to other children to speak about their problems.
Over the past few years Evie's condition meant that she was unable to tolerate food and as a result lost a lot of weight and now needs to be fed through a tube into her stomach. Her condition also affects her legs, bladder and bowel.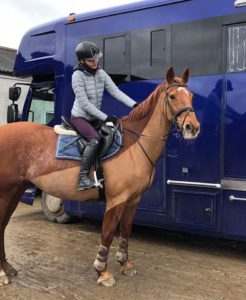 Ill health and numerous hospital visits started to make it very difficult for Evie to continue to compete, so two years ago Evie embarked on a plan to fund a medical unit horse box which would give her the ability to go to shows with all her medical equipment.
"Thank you for your support towards the purchase of my medical horse box, the security of having a vehicle that is safe and well equipped enough to deal with the current medical needs I face (that has landed me in hospital at least once a month every month for 15 months) is truly incredible," said Evie Toombes.
Riding gives Evie freedom from her health issues and the bond with her horse and ponies gives her a boost when she is feeling unwell. Evie has won several trophies. We wish Evie every success in her future competitions.