Wednesday 14th June 2023
During the pandemic, funding became available for schools in Scotland and Wales to improve air circulation and reduce the spread of the virus. SAMHE, a government backed research project monitoring air quality in schools, is keen to further investigate the consequences of poor air quality on pupils' health and concentration. With this issue high on the agenda, we look at how to identify poor air quality and the simple measures available to improve ventilation in schools where action is required.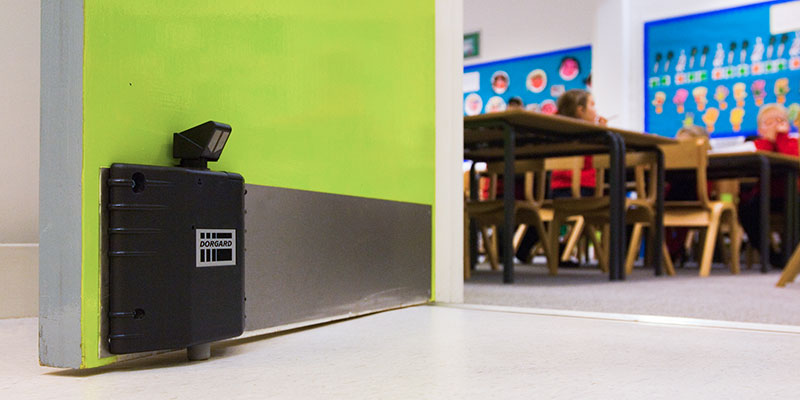 Identifying Issues: Monitoring Air Quality in Schools
SAHME is offering a free air quality monitor to schools across the UK. The devices measure carbon dioxide (CO2), volatile organic compounds (VOCs) particulate matter (PM), temperature and relative humidity, with data available to both teachers and pupils. The data from each monitor is also recorded on a national database, available to SAHME, which will be analysed to understand and improve long-term air quality for all schools.
Schools in the scheme which monitor trends in air quality across their site will be able to identify areas in which ventilation improvements need to be made. SAHME acknowledges that in some areas, mechanical ventilation systems may be required. For many areas, however, natural ventilation from opening windows and doors is enough to reduce air pollutants to acceptable levels.
Improve air circulation with a fire door retainer
Fire doors are critical to any building's infrastructure, but they can be a barrier to good air circulation. Propping or wedging open fire doors, or cutting the bottom off a fire door is, however, illegal, and could be dangerous as the door may fail to prevent the spread of fire.
Fireco's Pro Fire Door Retainer System can improve ventilation without compromising fire safety. The fire door retainer devices hold fire doors open safely, allowing air to circulate throughout the building. Dorgard Pro and Freedor Pro retainers can be used to hold doors open at any angle, allowing for adjustments during colder months. Doors are released to close as soon as the fire alarm sounds, protecting pupils, staff and property.
The fire door retainer devices are wireless and battery-operated, meaning they can be installed with minimum disruption. In nurseries, primary schools, SEN schools, and other noisy environments, the Pro system is ideal. The ProHub control panel is hardwired directly into the building's fire alarm panel which eliminates the possibility of false activations.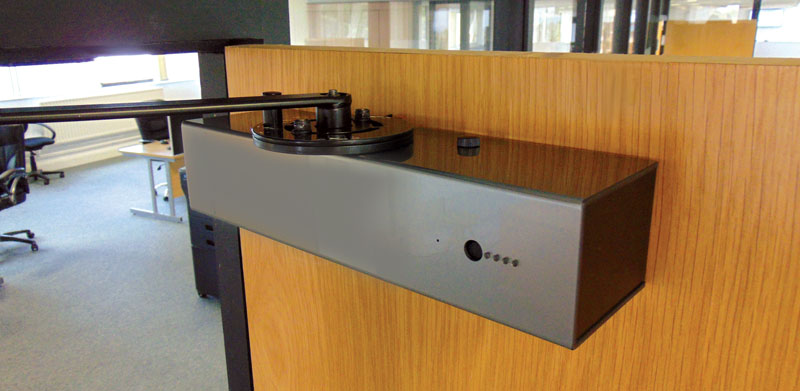 Allow ventilation with an intumescent grill
Air flow can be increased in schools by installing fire-proof ventilation grilles into fire doors. This should only be done after checking that the fire door can be adapted to include intumescent grilles. Due to the varying construction of fire doors, some doors cannot be safely altered in this way. Some doors may need an additional hard wood liner fitted in the newly-created aperture. Fire doors that require cold smoke seals may not be suitable for installing intumescent grilles. As the grilles rely on heat from fire to activate them to swell, cold smoke may be able to pass through before this happens. Always consult your fire risk assessment for the type of seals that are required before having work carried out on your fire doors. Any work to fire doors should be carried out by a competent person.
Air transfer vents fitted into fire doors should always be fire-rated. Intumescent grilles are specially designed to swell when exposed to heat, closing the gap and maintaining the fire resistance of the door. A standard air transfer vent would not do this and so would invalidate the fire door certification and fail to stop the spread of fire.
Safelincs fire door services
If you are unsure about whether your fire doors are fit for purpose, or require support to install fire door retainers contact our fire door team on 01507 464185 or email firedoors@safelincs.co.uk. Our qualified engineers can visit your site anywhere in the UK to inspect existing doors or carry out installation work.
FAQs
Is it safe to cut the bottom off a fire door to improve ventilation?
Fire doors should never be cut to improve ventilation. The maximum gap under a fire door is 8-10mm depending on the door specification. A gap any larger than that could result in the door failing to prevent the spread of fire. Some fire doors can be trimmed to fit if they are too tall for the door opening. Always consult the manufacturer to ensure it is possible to trim the door without affecting its fire rating. Great care should be taken when altering fire doors so that the door certification is not invalidated.
Are fire door retainers suitable for external fire doors?
No, fire door retainers are not suitable for external use. However, it is worth noting that in many cases, final exit doors do not need to be fire rated. If existing external/final exit doors are not fire rated, they are not fire doors. These can therefore remain open to improve a classroom's ventilation.
There is no solution for retaining final exit doors which are also fire rated. If ventilation is insufficient in this instance, a mechanical ventilation system may be required.