Wednesday 12th July 2023
Just added to Britannia Fire's range of P50 Service-Free Fire Extinguishers is the Fluorine-Free A-Foam Fire Extinguisher. Further to this, a P50 B-Foam Fire Extinguisher is coming soon. With the phase out of AFFF foam expected to begin imminently, these Fluorine-Free Foams provide a more environmental alternative.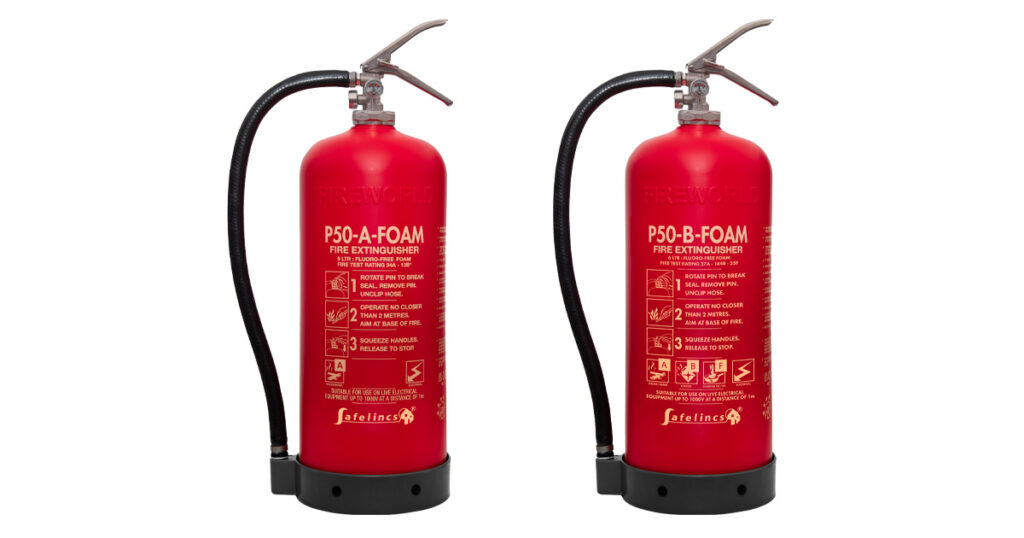 What is the difference between AFFF foam and fluorine-free?
AFFF Foam contains PFAS chemicals that have been identified as being harmful to the environment, people, and wildlife. The most harmful component of PFAS chemicals is fluorine compounds. Some of these compounds have been discontinued by law since 2020, and other legal restrictions are expected to follow shortly. In light of this action, Britannia Fire have developed the P50 fluorine-free foam as an environmental alternative. This extinguisher contains no harmful fluorine compounds, and therefore will not be subject to PFAS regulations or other forthcoming regulations.
Is the P50 Fluorine-Free an eco-extinguisher?
The P50 fluorine-free foams are free from any harmful fluoro compounds, making it a true eco-foam extinguisher. They are non-toxic, more environmentally friendly than AFFF foam, and will not be subject to any changes relating to the PFAS regulations.
It is important to check the firefighting medium in an extinguisher that is called 'eco-foam' or 'enviro-foam'. Previously, these terms have been used to refer to a group of AFFF foam extinguishers that contain lower fluorine content. Any amount of fluorine is harmful to the environment; these extinguishers should not be considered to be 'eco' or 'environmental'.
Is fluorine-free foam a like-for-like replacement to AFFF foam?
In many situations, the P50 Fluorine-Free A-foam can be used as a direct replacement for AFFF foam extinguishers to tackle class A and electrical fires. The 6ltr extinguisher has ratings of 34A, 13B, and electrical equipment up to 1000 Volts. Where there is a high risk of class B rating fires (flammable liquids like oil, alcohol, or diesel), additional protection may be required. This will soon be provided by the P50 B-Foam Extinguisher which has ratings of 27A, 144B, 25F, and electrical equipment up to 1000 Volts.
Visit PFAS-Free Fire Extinguishers for more information, or book a free P50 Service-Free Extinguisher site survey.