Monday 10th August 2015
As with any other item of fire safety equipment, there is a requirement to deliver training. If an organisation determines that an evacuation chair is required sufficient training should be provided. Evacuation chair training ensures that nominated staff members can act quickly and confidently when called to do so. Evacuation chair training is therefore required to fulfil what HSE identify as organisations' 'duty to provide a means of escape for disabled people'.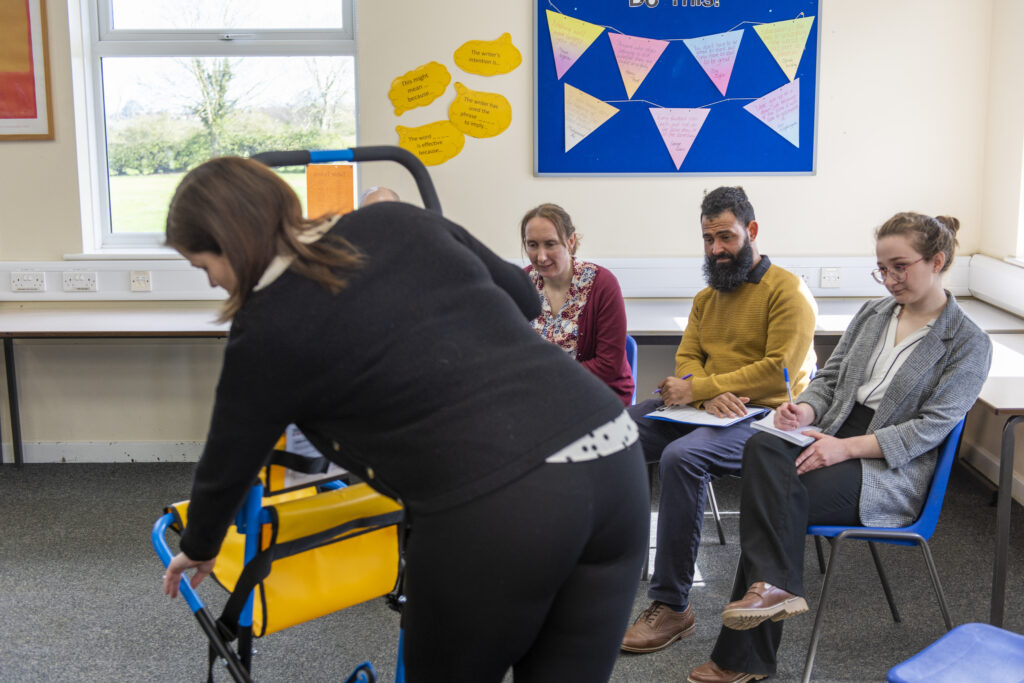 Is evacuation chair training a legal requirement?
Yes, where evacuation chairs are installed, staff must legally be trained to use the equipment. This is required by the Equality Act 2010, which recognises the difficulties that some individuals may face during an evacuation. Under this act, organisations are responsible for providing means for safe evacuation of every building occupant. This includes both installing evacuation chairs where required, and training enough staff to use them. According to the Provision and Use of Work Equipment Regulations (PUWER) 1998, equipment provided for use at work can be 'used only by people who have received adequate information, instruction and training.' This is essential for evacuation chairs, which are considered to be medical equipment. Misuse in a stressful evacuation situation puts the operator, the chair user, and those around them at risk of injury.
Why is evacuation chair training required?
There are legislative requirements for evacuation chair training. The qualification ensures the safety and confidence of both the chair user and the operator. If not used correctly, lives could be put at risk. Training is therefore essential to ensure the competence of the chair operator, who has undertaken a significant personal responsibility to evacuate a friend, colleague, or visitor to safety in an emergency.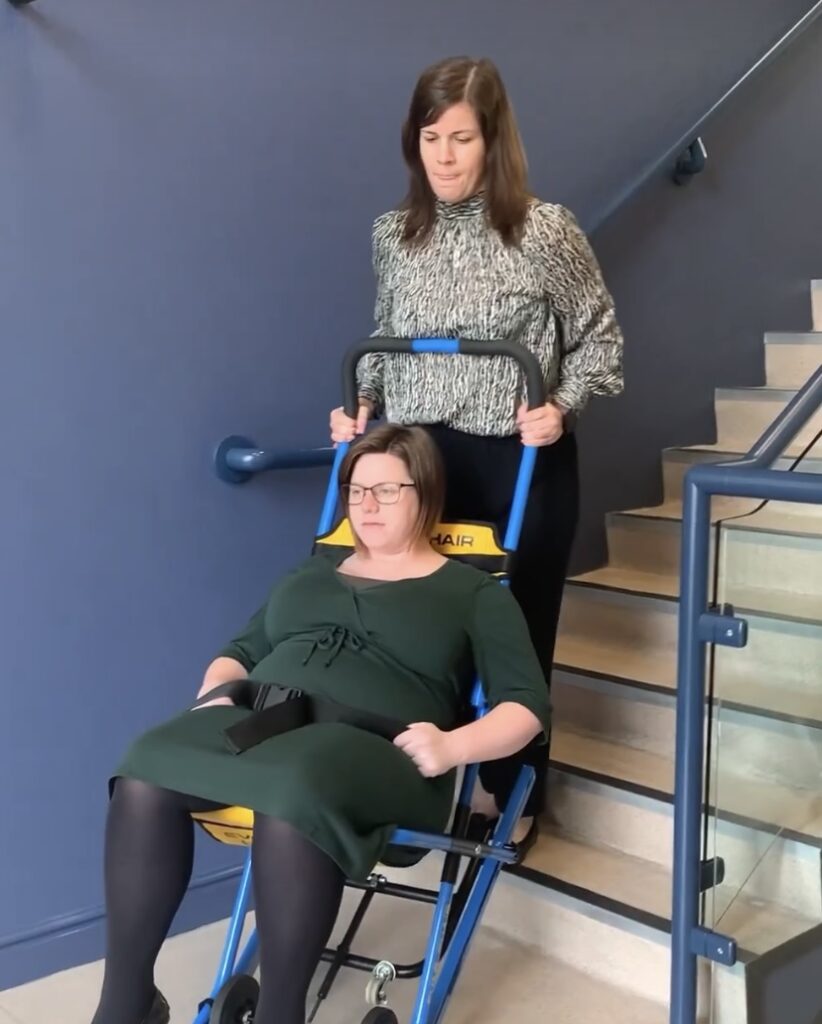 Who should receive training?
Due to the significant responsibility placed on individuals who receive training, it is important to ensure that they meet the following criteria:
They are a willing volunteer – no one should be forced to take on this responsibility.
They are responsible – staff members selected should be sensible, reliable, and understand the importance of their role.
They work in the vicinity of the person identified as needing support. It must be practical and possible for the trained member of staff to get to both the chair and the chair user in an emergency (e.g., they should work on the same floor).
They are physically able. Nominees trained to use the chair don't need to be incredibly strong, but mobility and stamina might be required.
There should be enough individuals trained to cover shift patterns and absence from work.
How often should training be refreshed?
Once an individual has successfully completed an evacuation chair training course, they can operate that model of chair for up to 3 years. After this time, refresher training is legally required. There are several other reasons that evacuation chair training might need to be carried out again. If a member of staff who is trained to use the chair leaves, is promoted, or otherwise becomes unable to operate it, a replacement member of staff must be trained. Similarly, if a new FRA, PEEP, or fire drill identifies an individual who would not be able to evacuate, and an additional chair is installed, another member of staff must receive evacuation chair training.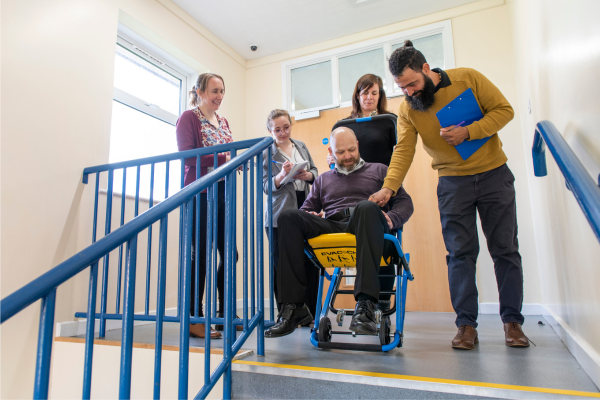 How many people should receive training on your evacuation chairs?
At a minimum, there must be one evacuation chair installed for every person who would need support to evacuate. For every chair installed, at least one member of staff must be trained and confident to operate it. However, to ensure the safety of all building users when trained staff are unavailable (on annual leave, off sick, or moved to a different office), it is sensible to train additional members of staff where possible. Enrolling a member of staff in a 'Train the Trainer' course can be a cost-effective way for training to be dispersed throughout your organisation.
Fulfilling your organisation's evacuation chair training requirements
For more information about the importance of training and maintenance for evacuation chairs visit our help guide. Book an evacuation chair training course with Safelincs to equip your employees with comprehensive theoretical and practical training from a fully qualified and experienced trainer. These on-site evacuation chair trainings courses are available nationwide, and suitable for up to 6 participants per course.