Thursday 30th May 2013
The P50 service free extinguisher turned more than a few heads on the Safelincs stand at the recent Facilities Show at the National Exhibition Centre in Birmingham.
Facilities managers who attend the annual event are always looking for innovative ways to cut costs and provide better service for their clients. They didn't take much persuading to see the benefits and potential savings offered by the P50.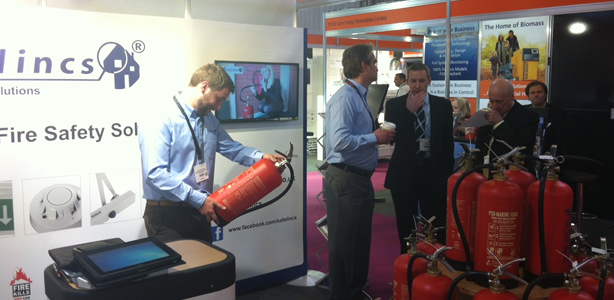 Traditional extinguishers require servicing each year but P50s are constructed using a composite material that will not rust or corrode. This protects the contents and no discharge testing or refills are required for ten years. The expensive annual service by an external engineer is no longer necessary– just a straightforward yearly test that can easily be carried out by an organisation's in-house staff.
After ten years the P50s can be refilled and used for a further ten years.
Safelincs' managing director, Harry Dewick-Eisele was at the show and had the opportunity to speak to many facilities managers. "Those with responsibility for large estates could see savings running into thousands of pounds," he said. "A good number were going back to their offices to weigh up how quickly they could replace their existing appliances and start cutting costs."