Monday 13th November 2023
Make sure your home is a safe space for you, your family and friends over the festive period by following our Christmas safety advice. Christmas trees, decorations and celebrations can increase the risk of a fire starting in your home. Following these Christmas safety tips and having some key safety items to hand will help to ensure you can relax and enjoy the festive season.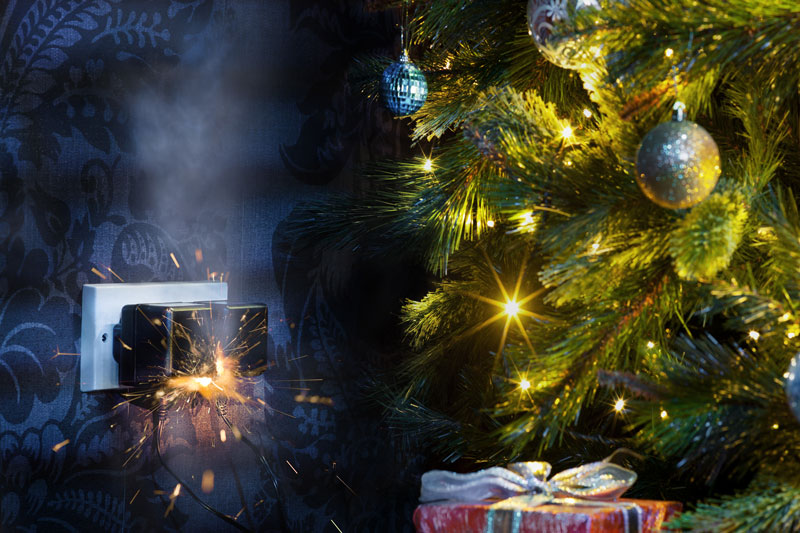 Christmas fire safety tips
Christmas trees
Real Christmas trees catch fire very quickly when they start to dry out. Always stand your tree in water to keep it fresh for as long as possible and position your tree away from heat sources including open fires. Never smoke or place candles near your Christmas tree.
Keep a Water Mist Fire Extinguisher close to hand. This versatile extinguisher will quickly and effectively extinguish a Christmas tree fire as well as most other fire risks found in the home including electrical fires. Water mist extinguishers contain only deionized water and so do not leave any messy residue to clean up. They are non-toxic, so you don't have to worry about children or pets coming into contact with the extinguishing agent.
---
It is also advisable to spray your real Christmas tree with fire retardant spray to prevent it from catching alight.
Christmas lights & electrical safety
Christmas tree lights (or fairy lights) can cause a fire or could trigger a spark which might ignite your Christmas tree if they are not properly maintained or used. Be careful no to overload plug sockets and extension leads. Use the electrical socket calculator if you are unsure. Check your fuses are the right type and if the bulbs blow, replace them straight away. Never leave fairy lights on when you go out or go to bed.
Replace Christmas lights straight away if you notice they are damaged or the electrical wire casing is cracked. When buying new Christmas lights, look for the CE mark to ensure they comply with European safety standards and read all labelling and instructions carefully before use. Watch the British Standards Institute Christmas light safety videos for further information.
Candles & decorations
Decorate your home with care to reduce the risk of a fire starting. Many Christmas decorations could easily catch fire so make sure they are not near heaters, open fires or candles. Never place decorations immediately above or around the fireplace when it is lit.
Place candles away from children or pets so they don't get knocked over and ensure soft furnishing such as curtains or blankets are not nearby. Always make sure you put candles out before going to bed or leaving the house.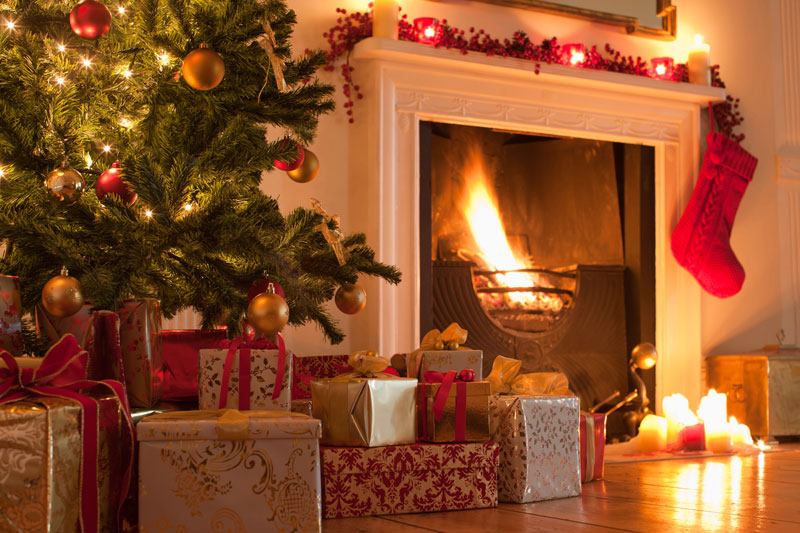 Cooking fires
More than half of all accidental fires in the home are started by cooking. Usually this is because a cooker, hob or grill has been left unattended. On Christmas day, there can be a lot of distractions whilst preparing the Christmas dinner. Keep children and pets away from the stove and never leave your cooking unattended. Follow these basic cooking safety tips to ensure a fire doesn't ruin your Christmas. Keep a fire blanket in the kitchen to quickly tackle any cooking, clothing or waste bin fires that start and have a burns kit to hand just in case anyone suffers from a burn or scold.
Never cook if you have been drinking alcohol, especially if you feel tired or drunk. Drinking alcohol causes drowsiness, slower reactions and confusion and will affect your coordination. You could fall asleep whilst cooking, and are more likely to knock pans or spill hot oil if you have reduced coordination.
Fire detection – plan ahead to stay safe
Making sure you have working smoke alarms fitted in your home prior to the Christmas period could save your life. Fit a heat alarm in the kitchen to quickly detect cooking fires without causing false alarms (heat alarms respond to a sharp increase in temperature not smoke and so will not sound if you burn the toast!). Test all alarms before Christmas and replace the alarm or battery if required. For further fire safety tips and advice tailored to your home, try the free online home fire safety check.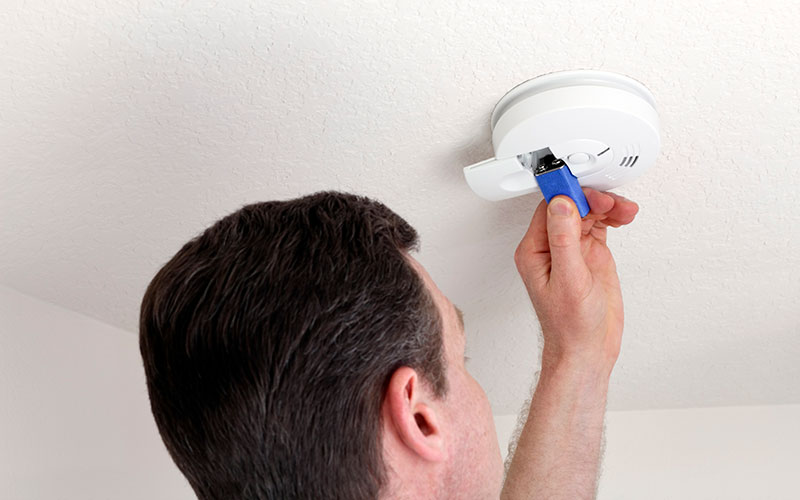 Carbon monoxide safety tips for Christmas
During the festive period, there could be an increased risk of carbon monoxide gas in your home. Using log burners, open fires, heaters or boilers that have not been maintained throughout the year could produce dangerous levels of carbon monoxide.
Sweep chimneys and service gas or solid fuel appliances such as boilers, heaters or cookers prior to use during the Christmas period. Fit a carbon monoxide alarm in every room where there is a gas or solid fuel appliance, or open fire.
Carbon monoxide gas is also known as the 'silent killer' as it can cause death and serious illness in people and pets. Get to know the signs and symptoms of CO poisoning and share them with your friends and family. Always ensure you have a working carbon monoxide detector in your home to alert you, your household and visitors to the presence of this dangerous gas.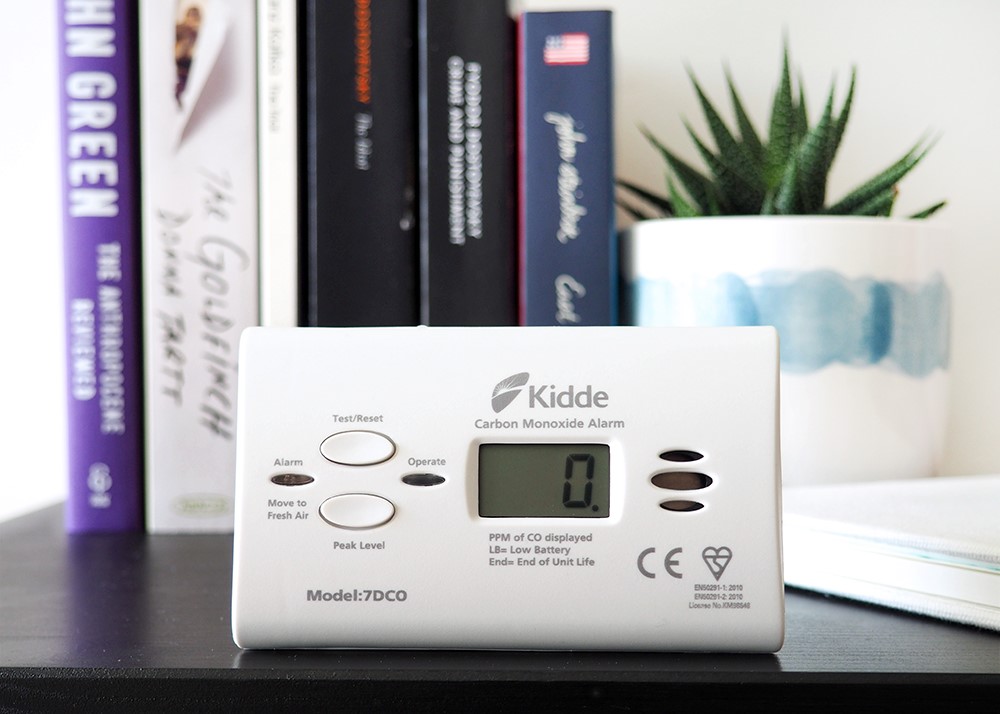 Wishing you a happy and healthy Christmas!
Consider this advice during your festive preparations in December to keep you, your family, friends and pets safe. Why not share our Christmas safety tips with others using the share buttons below? We wish you all a happy and healthy Christmas and new year!
FAQs
How do I keep my pet safe at Christmas?
Christmas can be an exciting or anxious time for pets due to a change in routine, an increase in noise and people, and lots of new and interesting objects to stimulate the senses! Follow the RSPCA's advice on keeping pets calm at Christmas and keep candles and decorations out of reach. Never leave your pet unattended near heaters or open fires and keep them out of the kitchen when you are cooking to avoid any mishaps or distractions.
Why are Christmas trees a fire hazard?
Real Christmas trees can catch fire very quickly especially when they start to dry out. Buy your real tree closer to Christmas so it doesn't dry out too much and keep it well watered at the base. Artificial Christmas trees can also be a fire hazard if their flame retardant coating has worn off – check the lifespan of your artificial tree and replace if required.
Is it safe to leave Christmas tree lights on all night?
No, it is not safe to leave Christmas tree lights on all night. These lights can get hot and could start a fire. Switch Christmas tree or fairy lights off when you go to bed or leave the house.
What fire extinguisher can be used on Christmas trees?
A Water Mist Fire Extinguisher is the best fire extinguisher to have at home during the festive period. You can use a Water Mist Extinguisher to tackle all common household fires including fires involving Christmas trees and fairy lights. This type of extinguisher dispenses a fine de-ionised water mist. This is non-toxic and will not leave any messy residue to clean up.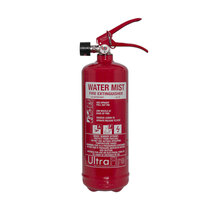 1ltr+ Water Mist Fire Extinguisher
The best solution for home owners & owners of holiday cottages or caravans. These extinguisher are safe to use & effective for most common types of fires.
Proven on class A, B, C, and F fires
Safe on electrical equipment
100% non-harmful and 100% clean agent
Perfect for clothing fires
£48.49 ex VAT
£58.19 inc VAT
Buy Now