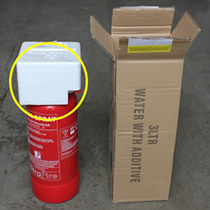 Fire extinguishers are heavy products and contain elements that can easily be broken or bent in transit (gauges, release-pins and handles), especially if the carrier places the extinguisher on its head or drops the extinguisher. Any dents in the side of an extinguisher could render the extinguisher unserviceable and require a full replacement. Yet some online fire safety companies are sending out fire extinguishers without special protection. In the best case scenario, the customer finds the damage and the extinguishers are collected and replaced at great expense. In the worst case scenario, the customer does not detect the damage and the extinguisher might not operate correctly in an emergency. If for example the release pin is bent, the extinguisher cannot be deployed at all. This is a particularly high risk, if soft, thin release pins are fitted in cheap extinguishers.
To protect its customers from experiencing such transport damage, Safelincs has for many years worked on the packaging and design of its quality extinguisher ranges. All our extinguishers are shipped with the extinguisher heads of the extinguishers being protected by additional packaging material. The outer boxes are also thickened for increased protection.
Both the Gloria and the Ultrafire range of extinguishers are also manufactured with hardened, large diameter pins which prevent the bending of the pin in transit.
Our Ultrafire extinguisher range has been taking the protection to an even higher level since its launch in 2009. A moulded extinguisher head cover encloses the extinguisher head giving the gauge and pin full protection, transferring any transport pressure onto the strong shoulder of the extinguisher body. This additional protection means that the Ultrafire extinguishers are protected whether the extinguisher is transported on its head or dropped during transportation.
Safelincs offers the Ultrafire extinguishers to wholesalers, online retailers and fire safety trade as a solution for traders to reduce their current high costs replacing extinguishers damaged in transit. Trade customers can purchase our extinguishers in the knowledge that our extinguishers are of the highest quality and will arrive in perfect condition at their customers, even in harsh conditions.
And of course our end customers have benefited from receiving our extinguishers without any damage for many years!