Thursday 30th December 2021
Off to university and renting student halls or a shared home? Did you know that someone living in rented or shared accommodation is 7 times more likely to have a fire? If this is your first time living in rented accommodation, read our top 5 fire safety tips for students to keep yourself and your housemates safe.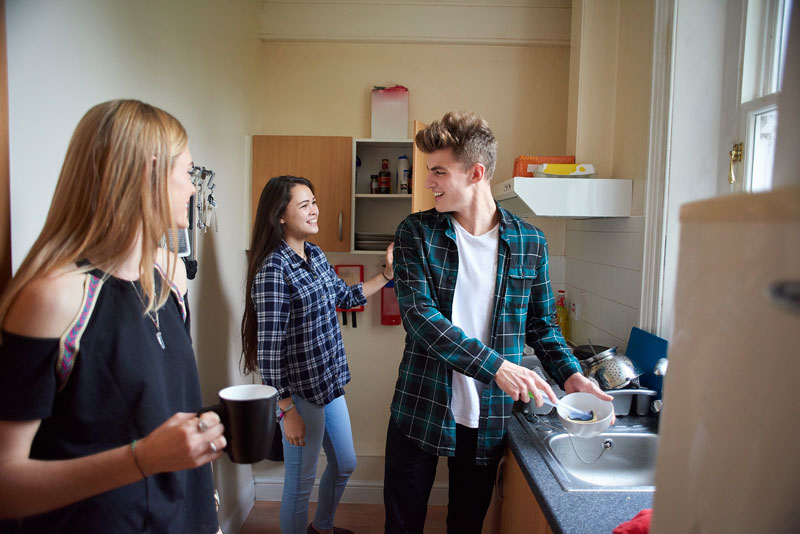 Our Top 5 Fire Safety Tips for Students
Read our guide on what to look out for when renting a home so you can be sure that your landlord or housing provider is doing their bit to protect you in the event of a fire.
Test your smoke alarms regularly and replace the batteries straight away if there is a low battery warning. If your smoke alarm is beeping and you can't solve the problem, notify your landlord.
Take care when cooking! Over half of all accidental fires at home happen in the kitchen. Keep loose clothing, tea towels and cloths away from the cooker and hob. Make sure your oven and hob are cleaned regularly to avoid grease and oil building up and always check you have turned off appliances after using them. If you are frying food, take care not to let oil get too hot – if the oil starts to smoke, turn the heat down as it could burst into flames. Always keep an eye on your cooking – don't be distracted by devices or by others. Set a timer so that you don't forget to check the food regularly. It's best to avoid cooking if you have been drinking alcohol as it is more likely that you will have an accident.

Avoid burning candles or incense inside the house as they are at risk of starting a fire if knocked over or could set fire to a curtain or other fabric nearby. To make your new room cosy use battery operated candles and reed defuses as a safer alternative. Smoking inside the house could also start a fire accidentally.
Electrical devices, cables and plug sockets can cause a fire! If your charging cable is cracked, severely twisted or has exposed wires, don't use it, it could cause a fire. Buy a replacement from a well-known manufacturer. Don't charge your phone or laptop on your bed or any other surface that could catch fire, instead opt for a work surface or table. Turn off electrical chargers, devices or appliances before bed or when leaving the house. Mobile phones that are charged on beds and under pillows get easily overheated and can start a fire.

Did you know, sockets and plug boards have a limit on how many items can be plugged into them? Plugging too many plugs into a socket or extension cable could overload it and cause a fire. You can use this socket calculator to check whether your extension leads and adaptors are overloaded.
If you are worried about fire safety in your home, why not take our online home fire safety check? Answer questions about your student accommodation and you'll be provided with advice about the best way to prevent a fire.