Thursday 21st April 2022
Exclusive to Safelincs!
Safelincs is excited to announce the forthcoming launch of the P50 Water Mist Extinguisher. Developed in partnership with Britannia Fire, the Water Mist is the latest addition to the innovative P50 Service-Free Extinguisher range. The P50 Water Mist Extinguisher uses forward-thinking fire extinguisher technology to combine all the benefits of P50 Service-Free Extinguishers with the highly versatile and eco-friendly media of Water Mist.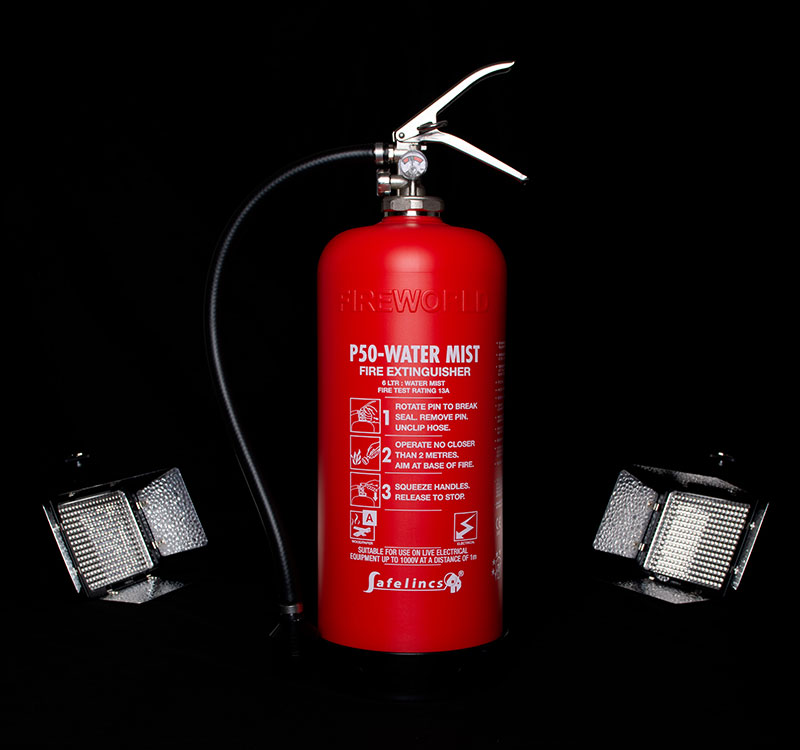 A highly versatile and eco-friendly extinguisher
Fine droplets of de-ionised water are dispensed through a special nozzle creating a fine mist curtain that is highly effective on a wide range of fires. Water Mist can be used on class A, B and C fires as well as fires involving live electrical items of up to 1000v (at a distance of 1m). Its versatility makes it ideal for use in many circumstances including offices, warehouses, schools, hospitals, farms and entertainment venues.
As Water Mist contains only de-ionised water, it is non-toxic and kind to people, animals and the environment. Unlike foam, powder or water extinguishers, Water Mist leaves no messy residue to clean up. This make making it an ideal choice for indoor or outdoor use.
All the benefits of a service-free extinguisher
P50 Service-Free Extinguishers offer a variety of benefits including the potential to save you a substantial amount on your fire extinguisher costs. Their unique construction makes them incredibly lightweight yet strong and durable. Because of these distinctive attributes, they do not require annual servicing from a qualified engineer. Instead, a simple visual inspection can be completed annually by a member of your team. Safelincs will provide free training for this.
Unlike traditional fire extinguishers, P50 Service-Free Extinguishers do not need to be re-filled until they are 10 years old. They can then be refurbished for another 10 years of use, giving a total of 20 years of service. As they are not made from steel, P50 extinguishers will not corrode. They can be left outside without any further protection from the elements. Their super-strong construction makes them long-lasting, highly durable and impact-resistant.
Switch to P50 Water Mist Extinguishers and save
With no annual servicing fee and a long life-span, many organisations enjoy large cost savings as a result of switching to P50 Service-Free Extinguishers. Due to the versatility of the P50 Water Mist Extinguisher, it may also be possible to reduce the number of extinguishers needed on your site, saving further cost.
P50 Water Mist Service-Free Extinguishers are exclusive to Safelincs. We offer a complete installation package free of charge which includes a site survey, delivery, installation, commissioning, certification and staff training.
Register your interest at safelincs.co.uk