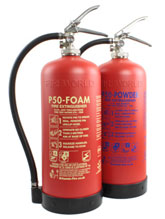 With homes and flats across London, Hertfordshire and Berkshire, leading Jewish charity Norwood gives adults with learning disabilities the support they need to choose where they live. In each property, housing support is available according to each person's needs; they can choose between sharing a house with 3-6 people, sharing a flat or living on their own.
Norwood has to ensure that all its properties have adequate measures in place for safeguarding in the case of fire. This includes the provision of fire extinguishers which have to be serviced annually – at considerable cost.
Norwood became aware of the service-free P50 extinguishers which are constructed using a composite material that will not rust or corrode. They do not need servicing, as a simple annual check, which can be carried out by a member of Norwood's own staff, is all that is required. There is also no refill required after 5 years – P50s only need refilling after 10 years.
Safelincs have so far provided around 100 of the P50 extinguishers (mostly foam) to Norwood and is rolling out a replacement program across most of the properties. Unlike most foam extinguishers, P50s contains a type of foam that is also safe to use on most electrical fires. Therefore they can be used on multiple fire types; the risk of Norwood staff or residents, although trained, using the wrong type of extinguisher, has been eliminated.
Although P50s are slightly more expensive than conventional extinguishers, Norwood benefits from massive savings by not having to call in service engineers each year. After ten years the units can be refurbished and used in exactly the same way for a further ten years.
"Safelincs took care of everything," explains John Gregory, Facilities Manager at Norwood. "The price includes a site survey, installation, ID sign, a bracket and certification. The engineer also carried out some quick training to show staff how to look after the extinguishers. And if anybody new joins, Safelincs has provided us with DVDs of the inspection process to keep all of our staff informed."