Friday 26th February 2021

Who is responsible for fire safety in my office?
If you are the owner, landlord, employer or occupier of a business premises, including offices, you are responsible for fire safety under the Regulatory Reform (Fire Safety) Order 2005, and are known as the 'responsible person'. As the responsible person in your office, you must ensure that you:
Carry out a fire risk assessment and review it regularly
Identify risks from the fire risk assessment and put measures in place to reduce or manage them
Inform staff of the risks and of their responsibilities to ensure good fire safety is achieved
Ensure adequate fire safety measures have been put in place and maintain them
Have an appropriate fire safety procedure and communicate this to staff and visitors
Provide training to staff to ensure they know what to do in the event of a fire
What is a fire risk assessment?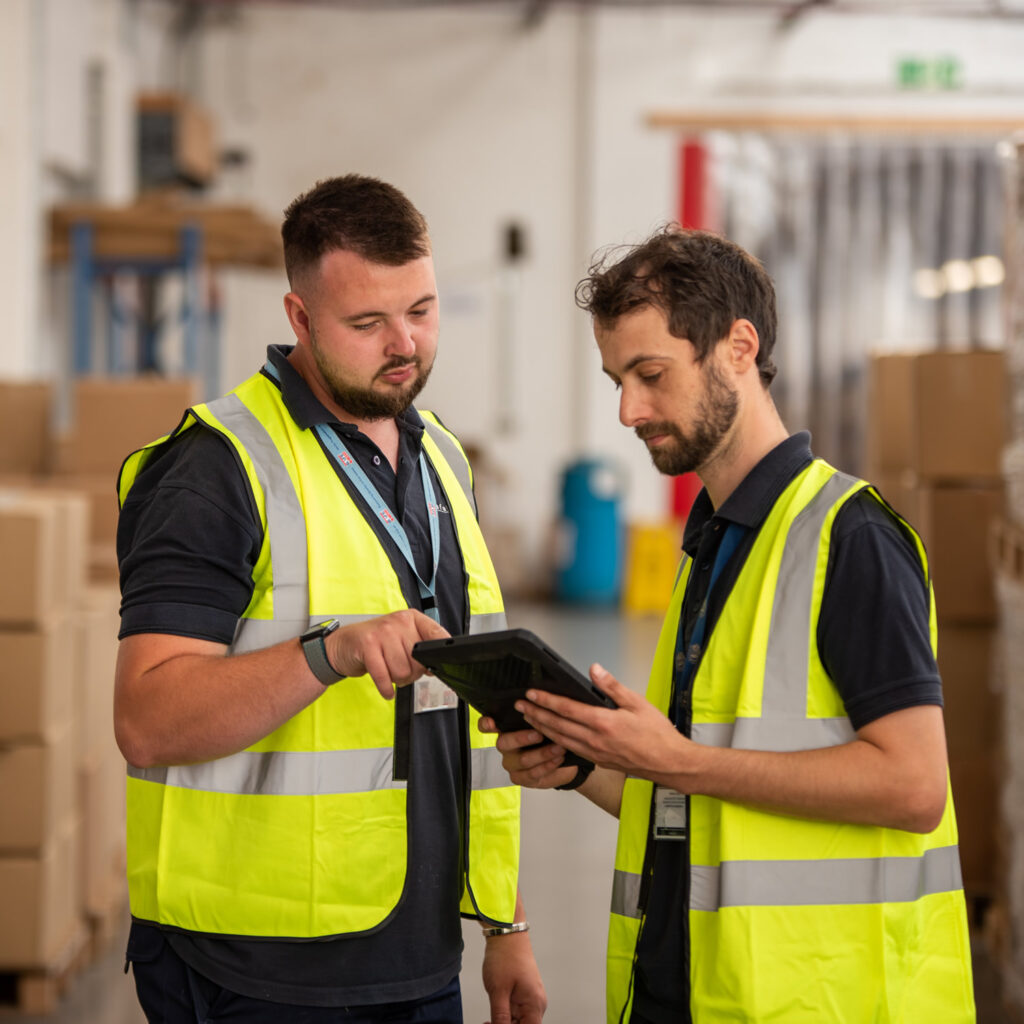 A fire risk assessment is a detailed review of your office space to identify fire risks and provide recommendations to either mitigate, reduce or manage them. A fire risk assessment can be carried out by a competent person or a professional.
You can use our free fire risk assessment form to carry out your own assessment if you feel you have the required skills and knowledge to do so. It is essential that you use this in conjunction with the appropriate official fire risk assessment guide for offices.
Alternatively, you can request that a trained fire risk assessor completes your office fire risk assessment for you. You will receive a comprehensive fire risk assessment and detailed guidance should any recommendations for improvement be required.
More information:
What kind of fire safety measures will I be required to put in place?
To ensure that you are meeting all your legal obligations you will need to look at the following areas:
Are your emergency evacuation routes and exits clear from hazards and well signposted?
Do you have adequate means to detect a fire and warn others?
Do you have appropriate fire fighting equipment and is it in the right place?
Are any dangerous substances stored correctly?
Think about the people who are in your office (both staff and visitors), particularly those with special considerations such as the elderly and people with disabilities
Provide fire safety information and training
Emergency evacuation routes and exits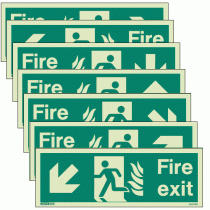 Staff escaping a building must be visually directed to the safest and usually quickest route leading to the nearest fire exit. Ensure that photo-luminescent (glow in the dark) fire escape route signs are indicating the nearest exit and are clearly visible.
You need to ensure that even if the mains power fails, all escape route signs are visible and that stairs and uneven floors are lit sufficiently to escape safely. You can achieve this by installing emergency lights or by installing illuminated fire exit signs in the first place.
More information:
Evacuation and fire drills
Every member of staff must be made aware of where the nearest fire exits are and which routes to take when exiting the building. The best way of ensuring that all staff know the escape routes is to ensure that when a new staff member starts you complete a 'fire walk'. This enables you to show staff all the fire escape routes and where fire fighting equipment is located.
You should carry out regular fire drills, ensuring that you also include practising taking alternative routes if your nearest fire escape should be blocked by a fire.
When planning your evacuation procedure ensure that you also include how you would safely evacuate someone with reduced mobility. Evacuation chairs offer a safe and easy solution to ensure that everyone can escape safely in the event of a fire. You should ensure that staff are trained to use equipment and also that the evacuation equipment is maintained and serviced.
Fire extinguishers and maintenance
Choosing the right type of extinguisher
Portable fire extinguishers can be very valuable in preventing small fires getting out of hand and turning into large fires that can put lives at risk and destroy buildings. The safety of your staff and visitors should be the main priority and staff should only be encouraged to use a portable fire extinguisher if they have been trained and as long as it does not put them in any danger.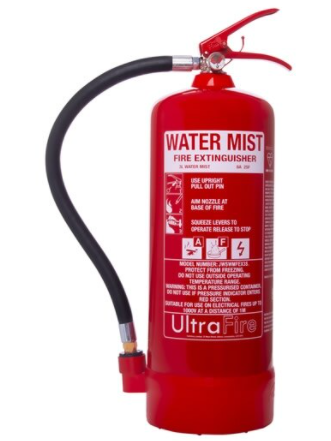 It is paramount that you have the correct type of fire extinguisher to tackle the type of fire that could occur in your office. Installing extinguishers that can tackle more than one type of fire, such as the dry water mist fire extinguisher, will reduce the number of different types required in your office and will also reduce the risk of using the wrong type. Dry water mist extinguishers can be used on class A, B and C fires as well as on live electrical fires.
More information:
If you are still unsure of which type of fire extinguisher you need in your office you can book a fire extinguisher site survey.
Installing extinguishers
Ensure that your extinguishers are commissioned and installed by a service engineer at your premises. You will need the correct signage and to ensure that they are hung in the correct location.
Extinguisher maintenance
Once your extinguishers have been installed you are responsible to ensure that a monthly visual check is carried out, looking for the following:
Are there any signs of damage to the exterior?
Are there any blockages in the hose?
Are there any signs the extinguisher has been tampered with?
Is the extinguisher pressurised?
More information:
You must also ensure that an annual service of the extinguisher has been carried out by a trained engineer and in accordance with the British Standards.
Please note that where self-maintenance extinguishers are installed, a yearly visual inspection by your staff is required, which must be documented in your fire safety log book but no annual visit is required by an external engineer.
Fire alarms and manual call points
As the responsible person you will need to ensure that there is an adequate fire detection system in your offices. A common way to achieve this is to install fire alarms. The size, configuration and use of your office will define what sort of fire alarm system you require.
More information:
Make sure that all employees understand that the first thing to do if they discover a fire is to press the nearest manual call point (also called manual break points). This alerts all of your staff of the fire. New staff must be shown the call points during their induction period.
Where office buildings are shared with other companies, make sure that a system is in place for notifying all the companies in the building in the event of a fire.
Free fire safety log book
We offer a free online log book with custom reminders and the ability to print it if you wish to keep a hard copy. Keeping an online log book will ensure that it is protected in the event of a fire so that you can show your due diligence and compliance.
It is essential that you keep a record of all your fire safety checks and fire drills in a fire safety log book.