Thursday 26th September 2019
Fire doors are given ratings which relate to the length of time the doors will give protection against a fire breaking through the door. Typial ratings for fire doors look like this: FD30, FD30s, etc. FD stands for fire door, and the number stands for the minutes of protection the door is certified for,  in this instance 30 minutes protection. The 's' after the number rating indicates that the fire door has not only intumescent fire door seals but also brushes to prevent the spread of cold smoke.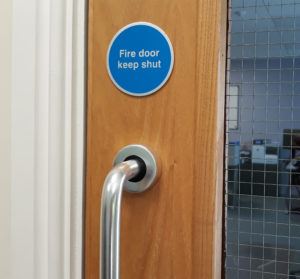 Fire doors form an essential part of your fire protection plan, slowing down and compartmentalising a fire. As such, you must get the right fire door in the right place; after all, it could save lives.
If you would like to gain a deeper understanding of fire door ratings, read our article 'Fire Door Ratings: FD30 or FD60?' to find out more. Alternatively our online fire door configurator will guide you seamlessly through the process of purchasing a fire door.