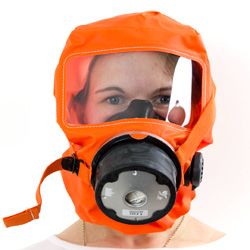 The Dräger Parat C is a fire escape hood that fully covers the head, providing 15 minutes of respiratory and eye protection from the toxic gases and fumes produced by fire. The Parat C can be purchased in four different versions; a standard single pack, a soft pack for easy storage, a traveller pack and a twin pack supplied in a wall mounted box.
The hoods are quick to deploy and easy to use, are supplied in one universal size suitable for all ages (including small children), and can be worn by persons with long hair, glasses or beards.
These fire hoods are used for the escape from buildings with long escape routes, are ideal for fire marshals and staff assisting other people to escape from buildings filling with smoke (e.g. teachers in schools). They can be used where smoke from a fire is affecting escape routes. Please note that the hoods will of course not protect you from fire or high temperatures, as the rest of the body is unprotected. If smoke is intense the user needs to move close to the floor where oxygen and cooler air are present.
The Dräger Parat C is fitted with a CO-P2 filter which will protect from the toxic gases shown below:
| Chemical | Name | Description |
| --- | --- | --- |
| CO | Carbon Monoxide | Produced by all fires as a component of smoke, caused by the improper burning of carbon fuels. CO is colourless, odourless and tasteless but highly toxic.Human senses cannot detect CO – symptoms include dizziness, headaches, nausea, stomach pains, breathing difficulties and eventually loss of consciousness. |
| HCN | Hydrogen Cyanide | Produced as a by-product of burning combustible everyday materials such as soft furnishings, insulation, clothing, etc. 20 times more toxic that CO. Targets the heart and brain and can incapacitate its victims within a short period of time. |
| H2S | Hydrogen Sulfide | Found predominantly in the oil and gas production industry, produced by decaying organic matter and characterised by its strong 'rotten eggs' odour. At high concentrations H2S can cause respiratory paralysis, asphyxial seizures and death. |
| N/A | Particles | Smoke is a collection of airborne solid and liquid particles, some of which can be highly toxic and cause poisoning when inhaled. When combined with the other by-products of a fire they can cause severe breathing difficulties, long-term illness, loss of consciousness and even death. |
Watch this short introduction video showing how easy these hoods can be used.