We occasionally get asked by our customers, if we could pre-service, or pre-commission our fire extinguishers for them prior to shipping. This practice, explicitly forbidden for all registered fire safety companies, involves a visual inspection and then labeling of an extinguisher with a signed off service label at the RETAILER'S warehouse. While this sounds like a clever practice, it is a service we would never offer to our customers. Apart from the fact that the British Standard BS5306-3:2009 specifically requests on-site commissioning to be completed AFTER all transport involved, the practice of pre-commissioning puts the customer both at the risk of injury and exposes them to substantial legal liabilities.
The main risk to the functioning of a fire extinguisher, and the reason for the requirement for extinguishers to be commissioned on site is damage during transport.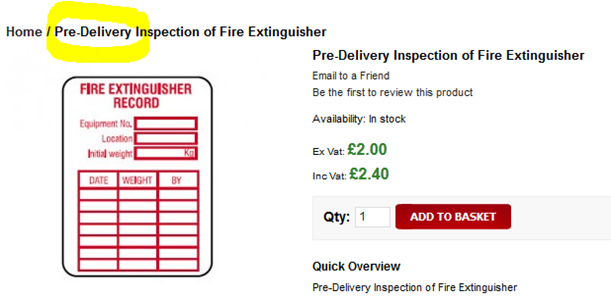 Handles can get bent with the biggest risk being the safety pin being bent to a degree where it cannot be removed in an emergency. The latter event happens when cheap fire extinguishers rest on their heads in transit. Be careful when purchasing extinguishers online from less professional suppliers, as they often use mild steel pins that bend easily. Safelincs' fire extinguishers, on the other hand, are 100% protected in transit by special head protectors or the use of stainless steel pins with extended diameters so that the pins can never bend in transit.
Another transport risk is leakage of CO2 fire extinguishers in transit. CO2 fire extinguishers do not have pressure valves and only a careful weight test during commissioning (removing the horn and measuring with precision scales) will reveal any loss in pressure and weight.
The other strong rationale for proper on-site commissioning is that customers require a certificate by an engineer to state that their premises are covered in accordance to the British Standard. A sticker on the extinguisher does not certify that the extinguisher is installed in the correct position or that it is in fact the right extinguisher for the risks present at the location.
All of this means that by taking a shortcut buying pre-commissioned extinguishers you are putting yourself at risk of liability if a faulty extinguisher is the cause of a failed attempt to put out a fire, resulting in loss of property and possibly injury or death. An insurance company might not pay out for damages, if the extinguishers on site were not correctly commissioned.
Safelincs has long been addressing this issue and offers all its extinguishers with an optional ON-SITE commissioning or installation/commissioning service. Our BAFE certified engineers will visit you and commission or install and commission the extinguishers at your premises. If the commissioning and installation option is chosen, our engineer will survey your site to make sure you have the correct extinguisher provision, fit the extinguishers brackets in the correct location, certify the extinguishers and label and sign each extinguisher. You are then fully covered for all eventualities.