What you need to know about emergency lighting
Why is emergency lighting necessary?
As the responsible person it is your legal obligation to ensure that adequate emergency lighting is installed across all the escape routes and exits from every area of the building with a minimum backup duration of between 1 and 3 hours. Emergency lighting is essential to light escapes routes for emergency evacuations when normal mains-powered lighting fails.
There are different types of emergency lights, some function as a normal light and others function only as an emergency light source. As a starting point you should know what type of emergency light you want to install for example; do you want a maintained emergency light (stays on constantly) or a non-maintained emergency light (illuminates only in the event of a mains power failure)?
Where to install emergency lights and signs
When deciding where to install emergency lights, take into account any hazards that there may be along the evacuation route, such as corners, stairways or uneven flooring. You must also ensure that fire alarm call points and equipment used for firefighting, such as extinguishers or fire blankets, are adequately illuminated to be easily seen or located. Some areas will require continued operation (e.g. a chemical processing room, operation theatre etc); higher continued lighting requirements must be considered in these areas.
A sub-category of emergency lighting is fire exit signs, which are green 'running man' signs with arrows that guide people towards the nearest exits. These are either internally lit in the same fashion as space emergency lighting or, in case sufficient other emergency lights are available, they can be photoluminescent. Such 'glow-in-the-dark signs store energy from either natural or artificial light and releases this stored energy when the light source is no longer there, emitting a yellow/green glow to illuminate the text on the sign.
You should refer to your fire risk assessment to ensure that you have covered all the essential fire escape routes and addressed any hazards on your site that were highlighted in this assessment. It is a legal requirement to carry out a fire risk assessment and you should refresh this assessment if the activities within your premises change or if significant changes to the layout are made. You can find authoritative guidance in the government's fire risk assessment guides.
Buy emergency lights
Visit our emergency lights and signs section to view our full range of emergency lighting products.
Testing and maintenance
As with all fire safety equipment, regular testing of your emergency lights must be carried out to ensure that it is working correctly. You should test that the lights are triggered when the mains supply is cut, and also that all the lights are illuminated as they should be. This can be done with the use of a fish key.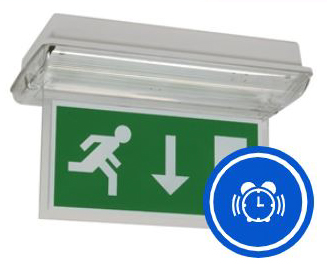 You will need to test your lighting once a month and ensure that a full discharge test is carried once a year. Log the results as any other fire safety equipment tests in your fire safety logbook.
If you would like to know more about emergency lighting our emergency lighting guides can provide you with useful information.
Free reminder service
Sign up to our free reminder service to receive text or email reminders to regularly test your emergency lighting.
More information