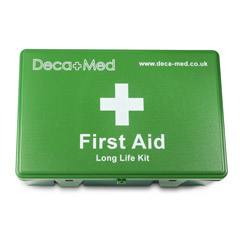 Safelincs, together with Söhngen, the leading German manufacturer of first aid materials have introduced a comprehensive first aid kit, the DecaMed, where all sterile contents have a guaranteed lifespan of ten years plus. The ground breaking longevity is achieved by an aluminium-vapourised, non-sticking wound covering and sterile packaging.
One of the issues with keeping a first aid kit properly stocked is ensuring the contents do not exceed their
'use by' date. Most first aid materials have a lifespan of less than two years which means that they need to be regularly inspected and replaced to conform to health and safety guidelines. Failure to maintain the contents of a first aid kit can lead to prosecution should a user of the materials be infected or otherwise afflicted. This leads to the regular disposal of items within the first aid kits in public organisations and businesses creating continuous costs as the kits have to be refreshed and out of date items replenished.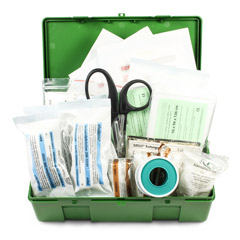 With the German made DecaMed all sterile materials have a 'use by' date of over ten years. This includes bandages, dressings, wound covers and compresses. Consumables like plasters and gloves still need to be replaced as required.
"Knowing that the items in the first aid kit have such a long life saves time, money and wastage," says Harry Dewick-Eisele, Managing Director, Safelincs. "We put this kit together so that companies and organisations would have a comprehensive first aid kit without having to constantly be concerned about monitoring dates and wasting money."