To answer this regularly asked question, one of Safelincs' fire door assessors has created a short fire door help guide. It lists the main legal frameworks relating to fire doors and offers an easy-to-understand overview of applications for FD30 and FD60 fire doors.
We also have a library of help files in our fire door help section which offers further guidance: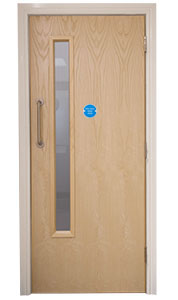 – Fire Door Help & Information
– Types of Fire Door Retainers
– Directory of Fire Door Installers
– Use of Existing Fire Door Frames
If you have very specific questions relating to fire doors, you can also discuss these on our fire safety forum where fire safety experts will answer your questions.
Safelincs also offers fire door assessments as well as the manufacture of standard and made-to-measure fire doors. We pride ourselves to be able to supply you with everything from information and advice to complete fire doors and all required fire door hardware.
If you would like to speak to our friendly fire door team, please ring 0800 612 4837