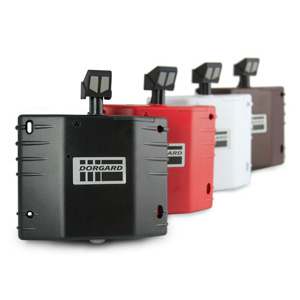 Fire safety company Safelincs operates a website called firescout that invites visitors to submit photographs of any potentially dangerous situations they have spotted. All entries are anonymous, the idea being to educate rather than 'name and shame'. Safelincs then offers advice as to whether the situation could incur a fine and how much, if anything, it would cost to remedy the situation.
A common misdemeanour is to prop open a fire door, sometimes with a fire extinguisher – a double transgression!
Fire doors are an essential part of the fabric of a building and have two important functions in the event of a fire; when closed they form a barrier to stop the spread of fire or smoke and when opened they provide a means of escape. They are designed to be kept closed except when people are passing through them. In some businesses, and in places such as care homes or schools, closed fire doors can act as a hindrance to general mobility and moving around to perform essential tasks. However, there is a way in which the situation can be overcome without compromising safety or breaking the law.
Safelincs provide a number of products manufactured by specialist manufacturer Fireco which allow fire doors to be kept open legally and safely. Each of these products works by responding to the sound (anything above 65 decibels) of a fire alarm; the mechanism holding the door open is released and the door closer on the fire door closes it to prevent the spread of fire and smoke spreading around the building.
Dorgard, the first innovative product from Fireco, is a wireless appliance that can be screwed to the base of a door in less than five minutes. The standalone device will then hold the door open at any angle allowing freedom of access throughout the building. Utilising acoustic technology, Dorgard 'listens' for a continuous alarm of 65dBA or higher which, once heard, will automatically release the door. Dorgard is available in a variety of colours and finishes which will blend in with any décor.
Fireco also produces the Dorgard Pro System which extends the versatility of Dorgard by linking several different devices and overcomes the issue of noisy workplaces. A transmitter is wirelessly installed next to a fire alarm sounder or hardwired into the fire alarm system. In the event of a fire, Dorgard Pro will wirelessly transmit simultaneously to multiple Dorgard Pro units within a 100 metre range. Safelincs will visit an organisation's premises and undertake a free survey and make recommendations for siting an effective system.
Another product from Fireco is Freedor, a unique wire free solution that allows a door to free-swing just like a normal door and to be held open at any angle – automatically closing the door in a controlled manner when a fire alarm sounds. It utilises the same technology that is employed in Dorgard but is fixed unobtrusively to the top of the door. Using Freedor allows freedom of access throughout the building for disabled people and people less able to operate the doors, and assists businesses complying with the Equality Act 2010.
All these products have applications in a wide variety of environments and allow easy movement through a building without compromising safety or contravening fire safety regulations.
To find out more about the Fireco range go to www.safelincs.co.uk and follow the link to Fire Door and Exit Equipment or call 0800 612 6537 where there are friendly experts on hand to offer advice.