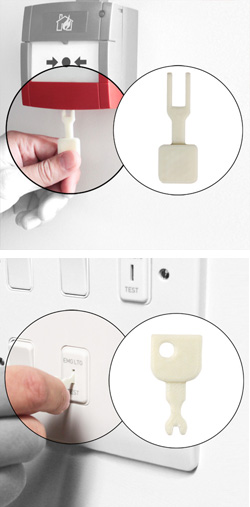 Safelincs has broken the mould and become the first fire safety provider to offer free product templates for 3D printers. 3D printers allow three-dimensional objects to be printed easily and quickly in plastic or other compounds. The first products to be introduced are test keys for manual call points and emergency lighting systems. The regular testing of alarm and lighting systems is a core aspect of fire safety management within a business, and our free 3D models mean you can rapidly replace mislaid or broken test keys without having to wait for us to ship replacement keys to you.
The keys offer a simplified, yet functional design and are compatible with a range of common devices. The STL files needed to print these free 3D test keys are available to download directly from our website with no catch or conditions. Simply click download now, and then use the file to create your own test keys via your 3D printer.
As the UK's most progressive and customer focused provider of fire safety solutions, Safelincs believes in engaging with new technologies for the betterment of the fire safety industry. Innovations such as service-free extinguishers and water mist technology have revolutionised the fire extinguisher market in recent years, and Safelincs have been at the forefront of this modernisation to offer the best quality and best value products to our customers.
We believe 3D printing will continue to grow in popularity and become a practical alternative when it comes to sourcing fire safety items, removing the need to wait for simple items to be delivered. As part of our commitment to combine best value with great service, Safelincs will continue to invest in the future of our industry and embrace new technologies for the benefit of our customers. Next time you need a test key for your alarm or emergency lighting system: print, don't pay.
For customers who still want to purchase the Original Equipment Manufacturers' test keys from us, we are of course still selling test keys.