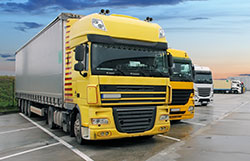 A global company, leading in the field of infrastructure operations and maintenance, with offices in Retford as well as across the UK and globally, had a narrow escape when one of their vehicles broke out in flames.
The company had P50 foam extinguishers installed and were able to act quickly in order to put out the flames that were caused due to a hydraulic oil leak. The operative at the plant said "the fire extinguisher used (a P50 foam) very quickly brought the fire under control and extinguished it" he went on to say that the fire was "potentially a serious fire that could've resulted in the total loss of that truck".
The P50 extinguisher is a service-free extinguisher which can save companies up to £300 per extinguisher. This extinguisher will be replaced free of charge under our exclusive free replacement guarantee. We replace any fire safety equipment that has been damaged by or used to extinguish a fire.
For more information how installing P50 extinguishers can save you money, call 0800 612 6537 or visit our dedicated Britannia P50 page.