Friday 24th July 2015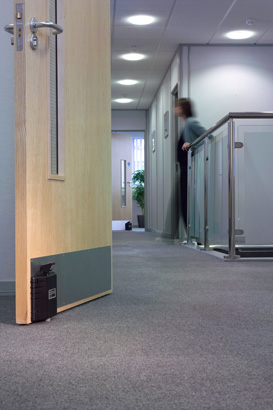 Businesses, schools, hospitals and restaurants all have something in common – how to meet the needs of customers and staff while staying compliant with fire safety regulations. Cumbersome heavy fire doors fitted with a door closer ensure the safety of occupants and prevent the spread of fire but they cause issues for those moving from one area to another, especially when carrying heavy objects or for someone with impaired mobility.
Portland Youth Christian Outreach (PYCO), a small charitable organisation working with young people on the Isle of Portland, Dorset carried out their fire risk assessment and found that staff were wedging fire doors open to enable easy movement for staff and users and to enable staff to monitor activity in rooms. These wedges rendered the fire doors inoperative and could have led to serious prosecution for breach of fire safety related laws. Operations Manager at the centre, Zach  Williams said "Fire doors were often left wedged open as this was the only way that users could freely move around the centre and that staff could easily monitor what was happening in other rooms."
The two main aims for the centre were to adhere to fire safety regulations and to maintain the free movement and monitoring possibility within the centre. It was identified that the Dorgard, a wireless fire door holder that is fitted to the bottom of your fire door would achieve these requirements. The Dorgard permanently holds fire doors open in the desired position. It then listens for the sound of a fire alarm and, on hearing it, lifts the plunger and allows the door closer to close the fire door. This prevents the spread of fire and smoke and gives protection to people within the building. Zach commented that "Fire doors make a real difference in protecting property, so these devices have made a great improvement to the safety of our building and all users. It allows both staff and volunteers to move around the centre with ease, without placing anyone, or the property at risk."
Dorgard  is easily installed within 5 five minutes and, as it is battery operated, can be installed by almost anyone. This cost effective device helps with the flow of air within a building too, especially in the hot summer months.
Please view the Dorgard for more information or call 0800 612 6537. Watch this video to see how easy Dorgard is to install.