Continuing our work with the fire industry's leading manufacturers, Safelincs has teamed up with Dräger and created a sales portal dedicated to Dräger's vast range of safety products and services.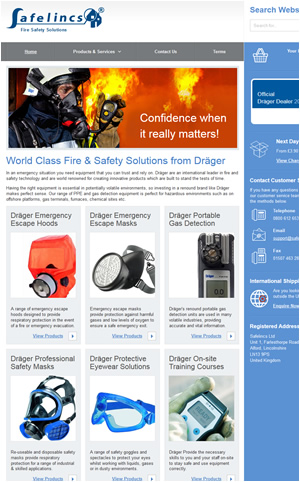 Impressed by Dräger's focus on protecting those working in potentially volatile environments, we created a dedicated website for all Dräger safety equipment. As official Dräger dealer, Safelincs is able to offer a wide range of safety products for respiratory protection, eye safety and gas detection for industries where this protection is needed most.
The new product range is in particular targeted at the fire and rescue service, chemical sites and the oil and gas industries, where the presence of toxic gases and fumes is a danger.  In these environments Dräger's filtered and instant air supply hoods and masks save lives. Dräger's portable gas detection instruments provide accurate gas level readings, ensuring the safe practice of work activities for all those on site.
For other commercial applications such as the construction, painting and chemical industries, employees require protection against the risk of breathing in contaminated air and from foreign bodies entering their eyes.  Dräger's impressive range offers protective eye wear solutions, as well as professional safety masks for both short term and long term use which are essential in these industries.
Safelincs are proud to be working alongside an international leader in fire and safety technology.  World renowned for high quality products, Dräger are at the forefront of innovation and development, and their expertise has built up and maintained customer trust in their products.  Our official dealership ensures that Safelincs' customers are receiving the reliable Dräger brand at best prices without compromising quality or service.