Photoluminescent or 'glow-in-the-dark' signs are a low-cost method of providing strong guidance and direction in the event of a power failure at night. They work in addition to the statutory emergency lighting required. Good photoluminescent signs really glow and stand out after the lighting power supply has failed which helps to reduce confusion and lack of orientation in an emergency situation. You can use photoluminescent signs for escape route marking, to mark assembly points, fire points, fire extinguishers signs and many more fire safety applications.
Knowing the importance of quality photoluminescent fire safety signs, we have worked with Jalite for many years. Jalite is the undisputed leader in the manufacture of photoluminescent signs and Safelincs only supplies Jalite's most superior 'AAA' grade. Since Jalite's foundation in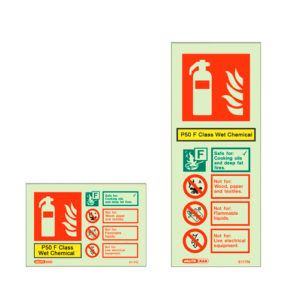 1983 the technical properties of photoluminescent materials have changed drastically from providing a novelty value through to life saving high performance materials.
Jalite have engineered a product that contains rare earth aluminate compounds within a coating that is energised in a very short time by the ultra violet and blue light wavelength energy that is present in nearly all forms of light source.  Jalite materials require only seconds to energise even at very low light levels!