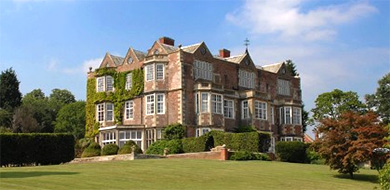 The prospect of fire breaking out in a historic building strikes fear into the owner's heart, since the majority of the structure will be irreplaceable. However, even after an extinguisher has successfully doused the flames there is the risk that the damage from the fire might be exacerbated by the action of any foam or powder that has been employed.
Built in the early seventeenth century, Goldsborough Hall is a private royal stately home, near Harrogate in North Yorkshire, which was saved from dereliction and developers by its current owners in 2005. It now hosts weddings and functions as well as providing luxurious accommodation in five-star suites and rooms.
The building had been equipped with powder-filled fire extinguishers which can be used on class A, B and C type fires and are safe on electrical equipment. However, one of the concerns the owners had was that, in areas of irreplaceable cultural heritage such as the Jacobean library with its oak panelling, any unfortunate fire damage could be compounded by the action of the powder.
Safelincs introduced the owners to water mist extinguishers that employ the latest low-pressure water mist technology. These produce over 22 billion water droplets from only 1 litre of water. They create an ultra-fine mist which has superior fire-fighting capabilities. The unique nozzle creates water droplets that produce a mist that leaves almost no trace and no collateral damage. The extinguishers are capable of tackling almost all common fires including class A, B, C type fires as well as fires involving live electrical equipment of up to 1000V. The water mist has a strong cooling effect and creates a "mist curtain" cutting off the oxygen supply. The droplets are so small that they have no adverse reaction on burning liquids, allowing the extinguishers to be used even on class B fires.
Goldsborough Hall's owner Mark Oglesby was very impressed when the devices were demonstrated and has installed them in the heritage areas. "We also have them in the kitchen space where the risk of fire is probably the greatest. Even a small fire that is easily put out could be extremely problematic if food became contaminated. With these extinguishers, that would never be a problem."
Should you have a similar application, please ring 0800 612 6537 or email support@safelincs.co.uk . Our helpful staff will be happy to explain the product further and to find the most cost-efficient solution for you.