Safelincs has added Jewel Water Mist Fire Extinguishers to its extensive range of fire safety equipment. These 'no-mess' extinguishers are ideal for use in kitchens where they can be used on all types of fire including deep fat fryers.
Product details:
Jewel E-Series Water Mist Fire Extinguishers are the first broad-spectrum fire extinguishers. They can be used on almost every common fire including deep fat fryer fires. They are perfect for kitchens, as they contain no harmful substances and leave no residues. The extinguisher's supersonic nozzle disperses microscopic 'dry' water mist particles to suppress fires and extinguish burning materials. The 35kV dielectrical test ensures that the extinguishers can be safely used near electrical equipment.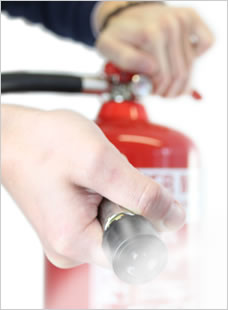 Statistics show that more fires start in kitchens than anywhere else. Traditionally, wet chemical extinguishers have been recommended for cooking fires that are being fuelled by oil and fat. They are effective but leave a residue that has to be thoroughly cleaned before any more cooking or food preparation can be undertaken. It may even mean temporarily closing down the kitchen.
The Jewel E-Series Water Mist Fire Extinguishers leave no residue so there are no nasty fumes or residues to contend with and the water mist protects the user from heat.
The extinguishers are LPCB approved to EN3, come with a five year warranty and have extraordinary extinguisher ratings. The ease of use, and the range of fires they can tackle, simplify training and remove the risk of the extinguishers being used incorrectly.
See a video of how the Jewel E-Series Water Mist Fire Extinguisher performs in relation to other extinguishers.