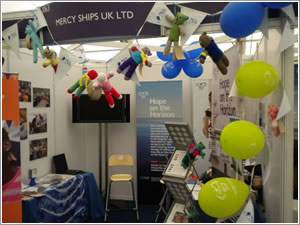 Mercy Ships, our official office charity, went to the Southampton Boat Show to raise their profile and to widen the knowledge about the valuable work that they do.
The organisation runs a ship crewed by volunteer doctors, nurses, water engineers and agriculturalists. It visits some of the world's poorest countries to offer free medical aid and to deliver projects to improve health care in partnership with local communities.
To take part in the show the Mercy Ships stand had to have a fire extinguisher fitted, making it compliant with the organisers' health and safety policy. The extinguisher used at the show was donated by Safelincs. This is just a very small contribution, but it marks our continuous support to this organisation.
Whilst at the show the general public were able to sponsor and name a knitted teddy bear, which would then be given to one of the children attending the ship for treatment.
If you would like to know more about Mercy Ships, please follow this link http://www.mercyships.org.uk/teddy-bears-hope