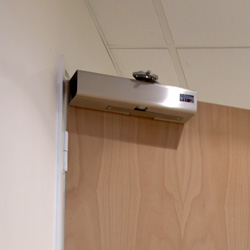 Firefighters were recently called to tackle a blaze at Charlton House residential care home in Plymouth. The fire was promptly dealt with by two fire appliances whose job was made easier by the fact the fire had been contained to one room. The bedrooms of the home had Freedor free swing fire door closers fitted, which closed automatically as soon as the fire broke out.
Taylia Cryan, the Manager at Charlton House commented "The fire was a frightening experience, but thankfully we had the correct measures in place so damage to the home was minimal, no one was hurt and no one had to move out. It was great to see my staff do what I had trained them to do and all the equipment we have installed work perfectly. We use Freedor as the residents couldn't cope with the heavy doors but I hadn't realised how important they were until the day of the fire."
Representing our supplier, Tom Welland, Compliance Manager at Fireco says "This fire is a great example of risk assessment in action. You can reduce the risk of fire by having great precautions and well trained staff but unfortunately you cannot remove the risk entirely. Accidents happen but processes don't, the home had put effort into ensuring that when the time came the staff and equipment did what was required of them. This meant the difference between losing a room and no casualties to losing an entire home, a business and injuries. We put the same amount of effort into making our products so people can rely on us. Had the fire doors been wedged open the outcome could have been catastrophic."
Freedor is a unique free swing device that is fitted to the top of fire doors, which allows users to hold their fire doors open at any angle. Freedor listens out for a fire alarm and once the alarm is sounding, Freedor closes the door, preventing the spread of fire and smoke throughout the building. Freedor enables greater ease of access as it does not create the resistance of normal door closers and can be used in any setting such as nursing homes, offices, schools and restaurants. Freedors are easy to retrofit, as they do not require any wiring.
Making sure businesses are ready to face a fire is vital. Charlton House had the appropriate training and had put in place the right equipment which made a huge difference and potentially saved lives and jobs.
For further information visit our Freedor page or ring 0800 612 6537 and we will be happy to help. The installation of the Freedor is included in our pricing.