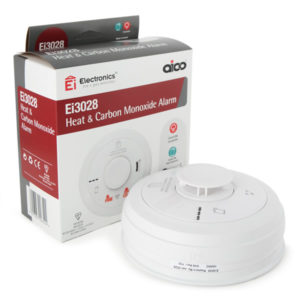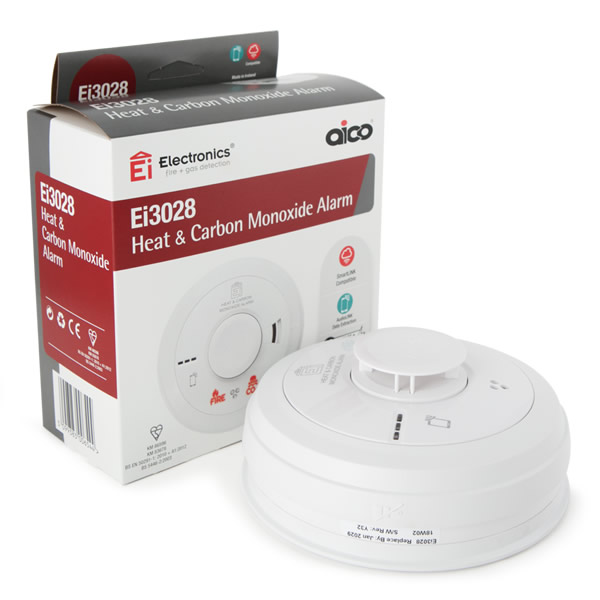 The kitchen is one of the most dangerous rooms in a household, as cooking appliances are one of the most likely causes of accidental house fires. To detect a fire in a kitchen, heat alarms are usually installed. The kitchen, however, also contains a less well-known risk, carbon monoxide (or CO). Gas boilers are often located in the kitchen, alongside gas cookers and ovens, creating potential sources of carbon monoxide. This poisonous gas is a by-product of fossil fuels such as gas being burned. As this gas cannot be seen, smelled or tasted, a carbon monoxide alarm is the only way of detecting it. These alarms will give a loud warning sound if CO is detected.
Ei Electronics have now launched an excellent solution; a detector that deals with both risks in one unit. The Ei3028 combined heat and carbon monoxide detector can detect both of these potential dangers, warning occupants in the event of a fire or a CO leak in the kitchen.
Instead of having to install two separate alarms (a CO alarm and a heat alarm), with the associated costs of an electrician and wiring, just one alarm needs to be installed. This gives a cost saving and also is more aesthetically pleasing as there is only one alarm on your ceiling.
This unique combined mains powered heat and CO alarm is fitted with a 10 year rechargeable lithium back-up battery, so will never require the replacement of batteries during its 10 year life. It features two different alarm sounds depending on which sensor has been triggered.
The Ei3028 alarm is part of a product family that covers all the risks in your house or flat. The range includes smoke, heat, carbon monoxide and combined smoke and heat detectors, all of which are compatible with previous models of Ei ranges. The SmartLINK module is also available which allows for hybrid interlinking (radio or hardwired) of up to 12 compatible devices.
Please visit our product pages for further information:
Or contact our friendly customer care team on freephone 0800 612 6537 or via support@safelincs.co.uk