As Britain looks to secure more global business beyond Europe, Safelincs is happy to report that it is growing its international trade. Safelincs has for years been actively selling across the world with about 5 to 10% of turnover generated overseas.  Safelincs operates internationally with websites and teams in France, Ireland, Germany and Italy. We also offer an international distribution service for global companies. For example, Safelincs recently distributed smoke/CO alarms to more than 100,000 recipients on behalf of one the world's largest holiday operators to Asia, Europe, south America and Africa. The largest part of our exports is, however, generated by our team of international sales specialists based at our headquarters in Alford, UK. International customers receive a personalised service with all their legal and transport requirements taken care off. We offer Certificates of Origin, exclusivity statements, we support VAT refund for ex-works orders, accept LoC, can quote in GBP, USD or Euro and offer specialist dangerous goods handling and shipping for pressurised vessels (extinguishers, gas containers etc), ionisation smoke alarms and so on.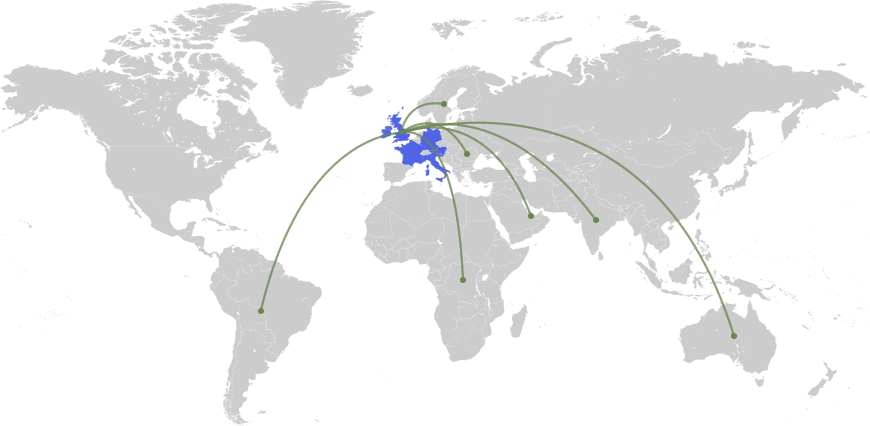 These international orders have accelerated since June 2016 due to the drop of the cost of Pound Sterling against USD and Euro, making Safelincs' products very competitive. This is particularly benefiting UK-manufactured products. Here some examples of Safelincs' export sales:
A leading fire safety and security services provider in Saudi Arabia recently bought UK-manufactured evacuation chairs. These evacuation products provide safe evacuation of mobility-impaired persons in case of emergencies.
A major supplier of electricity in the Maldives purchased UK-manufactured rotationally-moulded fire extinguisher cabinets. These rugged cabinets are robust, built to last and can hold two extinguishers up to 9 litre/kg size. Corrosion- and shatter-proof, they offer important features, including the ability to be wall, floor, post or vehicle mounted and can be provided with key lock as well as an battery-operated alarm.
A supplier of lighting fixtures and electrical equipment based in Qatar bought 50 panic bolt locks. These devices secure external fire exit doors against burglary without jeopardising a safe escape in an emergency.
If your company also wishes to benefit from Safelincs' international supply, please fill in our contact form on our international page or email international@safelincs.co.uk to receive dedicated quotes and information from our team.