Monday 6th November 2023
It is a legal requirement for businesses to ensure that they can evacuate all occupants of their building, both employees and visitors, in an emergency. The Regulatory Reform Order 2005 states that safe and effective means of escape must be available to all building users. The Equality Act 2010 highlights the importance of recognising the individual needs of people with disabilities. Responsible persons therefore have a legal duty to install evacuation devices if they are, or could be, required.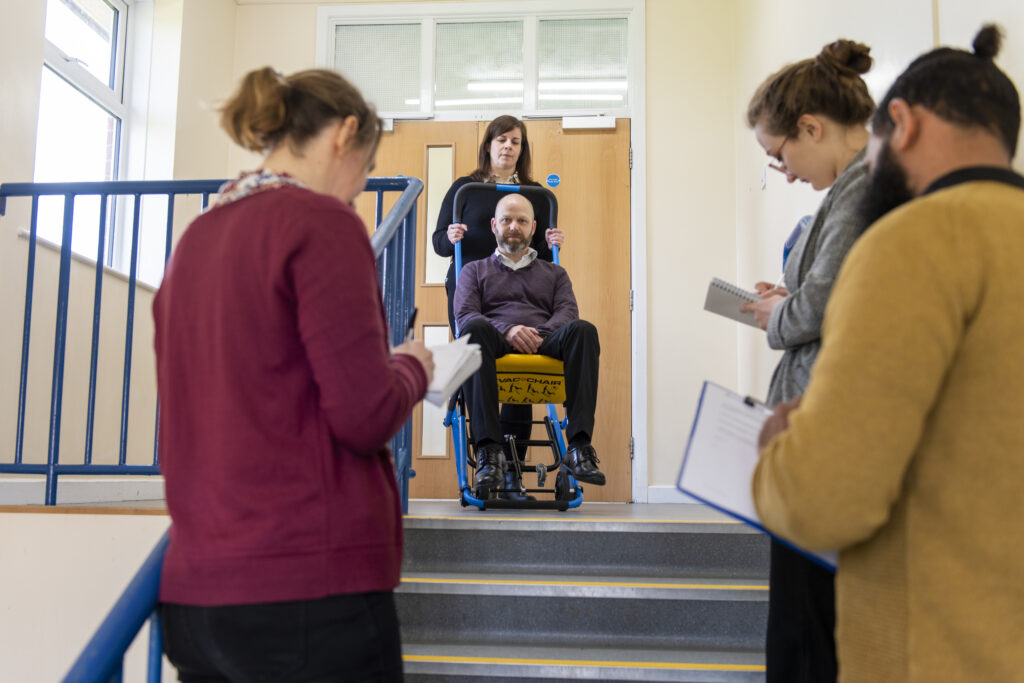 If a property has stairs, an evacuation chair may be required to ensure that everyone can leave the building safely. For every evacuation chair installed, there must be at least one employee trained to use it. Visit our help guide for more information on training and maintenance.
Safe evacuation with an evacuation chair
Unless the lift is suitable for emergency use, anyone who would normally use it due to mobility issues will need an evacuation chair. Other individuals may also need support to reach safety. Not all disabilities are visible, and evacuation chairs can provide a lifeline for people in a variety of circumstances.
Employees with a long-term illness
Some people with long-term illnesses, such as MS, Parkinsons, and COPD, may need support to evacuate. Employees with long-term illnesses may not always need mobility support, but flare-ups could occur that mean support is required. Personal emergency evacuation plans (PEEPs) for these employees should reflect the needs of individuals on a case-by-case basis, and be updated as circumstances change.
People with injuries
Temporary injuries, such as fractures, may prevent someone who is usually fully mobile from being able to evacuate. Injuries which limit mobility should be addressed with temporary PEEPs. Actions to ensure the safety of the individual must be taken. It may be possible to provide the injured person with a ground floor office to enable independent evacuation. If this is not possible, an alternative option for evacuation such as an evacuation chair should be considered.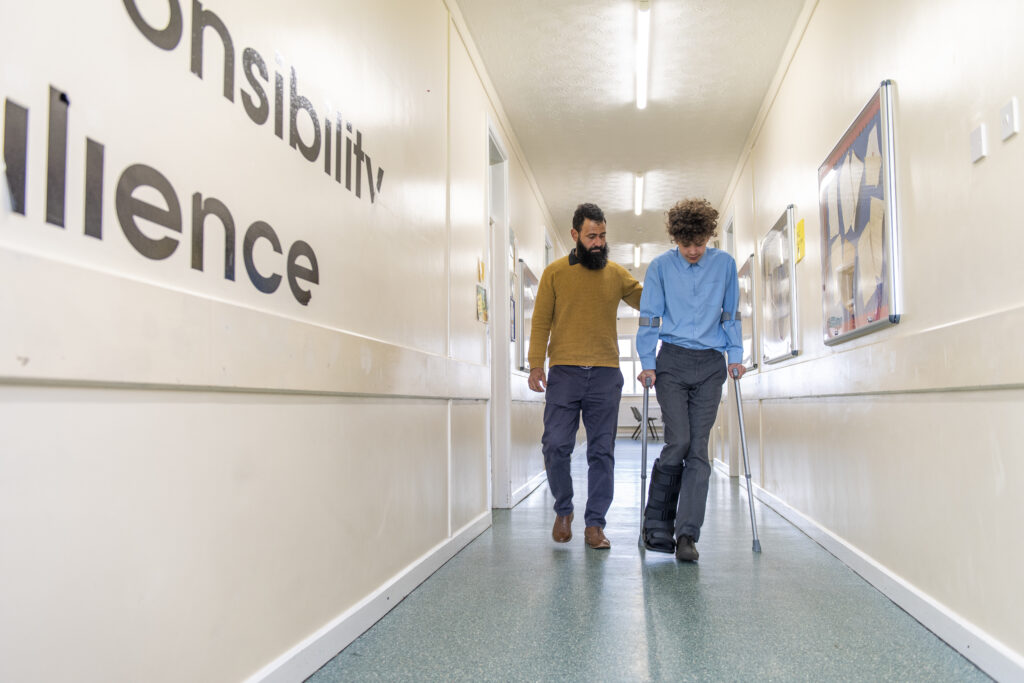 People recovering from illness
People recovering from illness or surgery may have limited mobility, and therefore need support to evacuate. Employers should conduct back-to-work interviews to determine whether an evacuation chair will be required to meet the needs of any employee returning to work following serious illness or surgery.
People with autism or other learning difficulties
Neurodivergence affects everyone differently. Some people with autism or another learning difficulty may never need support to evacuate a building. Some may sometimes need support, and others may always need support. PEEPs should be in place for employees who could or would need support due to anxiety, overwhelm, and distress caused by an emergency. PEEPs will also reveal whether an evacuation chair is suitable or could be required.
Pregnant people
Due to stress, exhaustion, or limited mobility, evacuation chairs may be required to meet the safety needs of pregnant people. This is particularly important for buildings with multiple flights of stairs. Ongoing risk assessments for pregnant employees should reflect whether mobility support might be required in an emergency.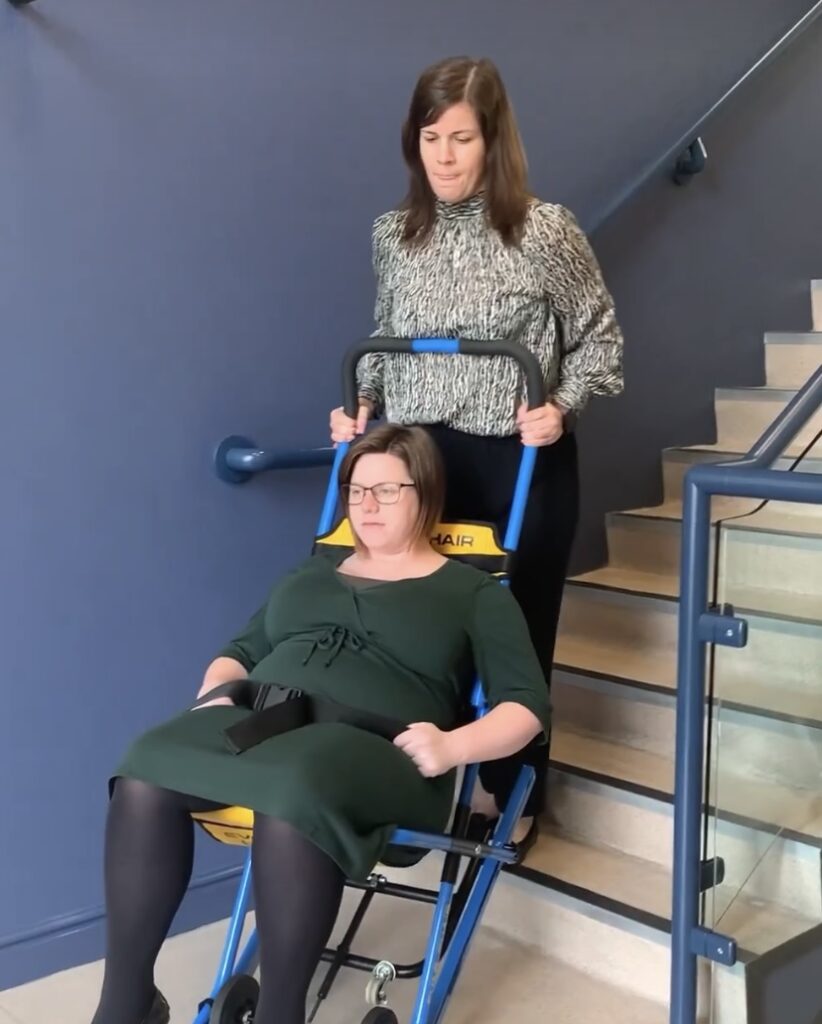 Partially sighted people
Some people with visual impairments may be able to use the stairs day-to-day, but would not feel comfortable doing so in an emergency due to crowds or smoke. Installing evacuation chairs to support partially sighted people to get to safety should be a consideration.
Bariatric people
Bariatric people may struggle to descend stairs safely in an emergency, even if they usually take the stairs. A PEEP should be in place for any employee identified as vulnerable during a fire drill, or through self-identification. This will reveal whether a specialist bariatric evacuation chair is required.
Geriatric people
Older people may have visual impairments, frailty, Alzheimer's or complex health problems which limit their mobility, and ability to evacuate quickly. In public buildings such as shops, museums and community centres, as well as offices which take visitors, an evacuation chair could be required to assist with the evacuation of older people. It is reasonable to assume that visitors to public buildings would have enough mobility to use an evacuation chair. However, in a hospital or care setting, evacuation sheets should be installed for those who are bed bound, and would not be able to use a chair.
Safe Evacuation Plan
In conclusion, if it is possible that someone entered the building with a mobility aid which would not operate in the event of a fire, like a lift or escalators, you should be prepared to evacuate them with an evacuation device. PEEPs should identify requirements of employees or known building users with additional support needs, and individual needs must be met. In public buildings where the number of people needing support to evacuate is unknown, this needs to be factored into the GEEP (General Emergency Evacuation Plan). Ultimately, personal circumstances change, and anyone could need an evacuation device at short notice, so PEEPS & GEEPS should be regularly revised. Installing at least one evacuation chair in your building prepares your organisation for the safe evacuation of everyone inside.
For more information about installing emergency evacuation equipment, visit out help guide, or view our range of Evac+Chairs to find the best device for your organisation.