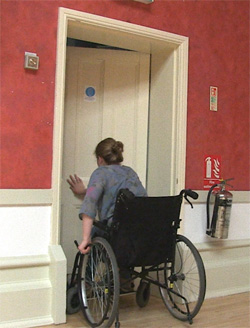 Alford Corn Exchange Community Group, a charity supported by Safelincs, took over the running of Alford's historic Corn Exchange in April 2014. The building is a Town Hall and home to many groups and events. East Lindsey District Council, who had planned to close and sell off the building, handed the building to the group, leaving them with the responsibility of raising enough money to cover the running costs and to make improvements to the building.
To increase income the charity started to offer packages for weddings, funerals and parties. However, fire doors became a problem when events became larger in scope and visitor numbers. The building is fitted with heavy internal fire doors that close with force when you let go of the handle. Carrying food and drinks from the kitchen to the main hall was a real problem, as volunteers had to negate two heavy fire doors into the main hall.
Safelincs was contacted by Vice Chair Janet Taylor to see if there was anything that Safelincs could do to help. It was quickly identified that fitting Freedor, a wireless free-swing door closer that acts as door holder and closer in one, would resolve the issues at the Corn Exchange. Freedor is fitted to the top of the door in the same location as a normal overhead door closer and will allow your fire door to swing freely as any normal door.
The Freedor unit listens for the fire alarm and on hearing it it will automatically close the door and stop the spread of fire and smoke.
The Freedor ensures that occupants have free access to all areas of the building whilst staying compliant with fire safety regulations. The free swing action also enables people with impaired mobility to move from one room to another without difficulty.
Safelincs decided to support the great efforts of the charity and donated two Freedor units as well as the installation. Janet Taylor said "I would like to say what a difference the new door closers, that your company have generously donated and installed, have made to me and other volunteers who are working and serving food at the functions we are now having in the Corn Exchange." She went on to mention that "Before it was never easy carrying trays etc into the main hall. I am sure that other caterers who hire our facilities will also appreciate what you have done."
For more information about Freedor and other free-swing door closers visit https://www.safelincs.co.uk/free-swing-door-closers/