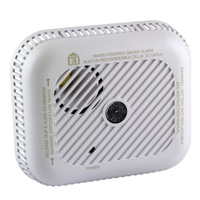 Mains powered smoke alarms are required whenever a new home is built, a home is extended or materially altered. As they are interlinked they ensure that the alarm is spread through the entire building, notifying you of the fire even when you are in bed. Most mains powered alarms have a back-up battery inside to ensure that the alarms work even if their power supply is interrupted, for example by a blown fuse, which can happen when the fire was started by an electrical fault. Over the years, should either the power supply fail or should the backup battery become flat, the alarms will beep to notify you that there is a problem. As the cold of a night will weaken the backup battery, the warning beeps will usually start at night, which is, of course, a nuisance. However, beeping due to low battery is not the only reason an alarm might beep for and it can be very difficult to work out what has gone wrong. To help our customers, we have therefore created a simple-to-follow help guide for one manufacturer's products. The reason for picking Ei Electronics' products is that they are the undisputed market leader in mains powered alarms. Their smoke alarms are found in almost every new or converted home in the UK, so that we focused on their products in this help guide.
Their mains powered smoke alarm series is 'Aico' branded and follows the following numbering system
Ei140 series (mains powered with alkaline backup battery which needs changing every year or two)
Ei160 series (mains powered with sealed-in, rechargeable 10 year lithium battery
Within each series, there are three types of detectors ending each with one of the following numbers:
..1 (eg Ei141): Ionisation smoke alarms. Good for fast flaming fires, such as paper and wood. They do, however, have a tendency to false alarm if for example a toast is burned nearby.
..4 (eg Ei144): Heat alarms. Used in kitchens, as these units are insensitive to burnt toast
..6 (eg Ei146): Optical smoke alarms. Less prone to false alarms from burnt toast. Good for smouldering fires such as from soft furnishing
Further helpful information about smoke alarms can be found in our help section.
Replacement smoke alarms can be easily identified on our overview chart showing older smoke alarms models and their replacements.
For Aico/Ei Electronics mains powered smoke alarms we are able to offer dedicated replacement alarms that can be fitted by a home owner without requiring an electrician.
We also offer very detailed further advise about smoke alarm defects and solutions on our forum.
There is also a range of videos showing you step-by-spep how to remove smoke alarms from their bases