Fire doors; why are they important in flats?
Fire doors save lives: Flats that open out into communal areas are legally required to have front doors that can withstand fire for at least 30 minutes. If a fire breaks out in one of the flats, the fire door will stop the fire and smoke from spreading to communal areas and corridors, allowing residents to escape the building safely. To ensure they are effective, as the responsible person, you also have a legal responsibility to make sure all fire doors are in good working order and that fire door regulations are followed in your building.
Is fire door compliance at risk due to the behaviour of residents?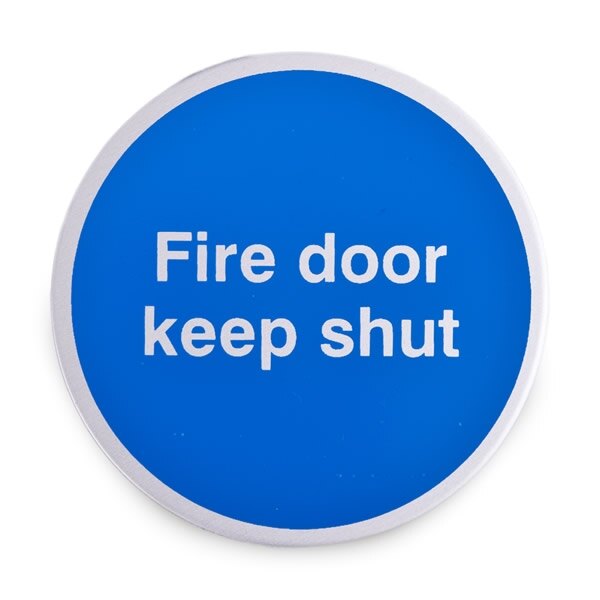 Keeping fire doors closed: It goes without saying that a fire door will only do its job to contain a fire and smoke if it is closed. Fire doors should always be fitted with a door closer to ensure that the door automatically closes whenever it is used. Resident's behaviour and a lack of understanding of the function and importance of fire doors can mean that in practice the effectiveness of fire doors is in jeopardy.
Fire doors, due to their heavy construction and their door closer, may pose a particular problem for disabled residents, those with impaired mobility or elderly people. In these circumstances, fire doors can seem impractical and a barrier to free movement. Where fire doors have been fitted as an entrance door to a flat a tenant may therefore try to find a solution that will enable them to open their flat entrance door with more ease. Common misuse of fire doors in this way involves doors being wedged or propped open for convenience, or fire door closers being disengaged.
However inconvenient or impractical, without effective fire doors in all parts of the building, everyone's fire safety is compromised and as the responsible person you may be liable for prosecution under the Regulatory Reform (Fire Safety) Order 2005.
Educating residents of the importance of keeping fire doors shut can be a real challenge. Especially if tenants change frequently. Displaying information in communal areas and ensuring that tenants have been made aware of fire safety procedures can be helpful but even with this awareness you can not be certain that residents will not tamper with the automatic closing action of a fire door.
How can fire doors be legally held open without compromising their effectiveness in a fire?
Install free-swing door closers such as the Freedor Smartsound Door Closer. This clever device allows the fire door to swing freely as a normal door would. But, when it 'hears' the fire alarm sound, it functions as a normal door closer and closes the door automatically. The Freedor SmartSound can also be used to fix or 'retain' the door in an open position, releasing it when the alarm sounds. The Freedor is easy to install on existing doors and as it is battery operated it requires no wiring by an electrician.
In communal areas Dorgard Fire Door Retainers are an effective solution. The retainer will hold the door open in a fixed position, giving easy access in corridors or shared spaces. It will release the fire door when it hears the fire alarm. It is a legal solution for your access problems without compromising fire safety.
What else can be done to ensure fire door regulations are being met?
Carry out quick visual checks and ensure that your fire doors are inspected by a trained person on a regular basis. Visually checking the fire doors in your building on a regular basis could highlight any issues at the earliest opportunity. You should look out for the following things:
Is the automatic overhead door closer or free-swing door closer in good working order? Automatic door closers should close the door shut when released.
Are the fire seals around the door free from damage and securely fitted? Fire seals or intumescent strips should sit snuggly in the door frame or in a groove around the edges of the door. They expand during a fire to stop flames and smoke spreading through the gaps. They are a legal requirement for the front door of any flat that leads to a communal area.
Does the fire door close properly? The door should fit well into the frame with no large gaps and should close fully. Using a Fire Door Gap Gauge will help to effectively measure any gaps and ensure they are within the required limits.
Safelincs offers an in-depth inspection of your fire doors. Our BRE certified inspectors ensure all fire doors throughout your building remain fit for purpose and will make recommendations of any further action that should be taken. Any further necessary remedial work on the fire doors can be carried out by our certified engineers if required.