Not only will the P50 Service-Free Fire Extinguisher save you money, it is also an eco-friendly choice. With a low-carbon manufacturing process, long-lasting design and fully recyclable construction, P50 Fire Extinguishers are a great option if you are looking to reduce your carbon footprint. Carbon emissions are reduced even further as there are no engineer visits required to your site.
Eco-friendly manufacturing
P50 Fire Extinguishers are energy efficient to manufacture. Unlike traditional fire extinguishers that are made of steel, P50s are made from granules of plastic. These are formed into a cylinder shape using blow moulding. This is a low-energy, clean and eco-friendly manufacturing process. It produces zero wastage as any off-cuts of plastic are turned back into granules and re-used.
P50 eco-friendly extinguishers are made in the UK at Britannia Fire's factory in Norfolk. By buying a fire extinguisher that is manufactured in the UK, you are reducing the number of miles the product has travelled to reach your premises. This in turn, reduces your carbon footprint and contributes to lowering your environmental impact.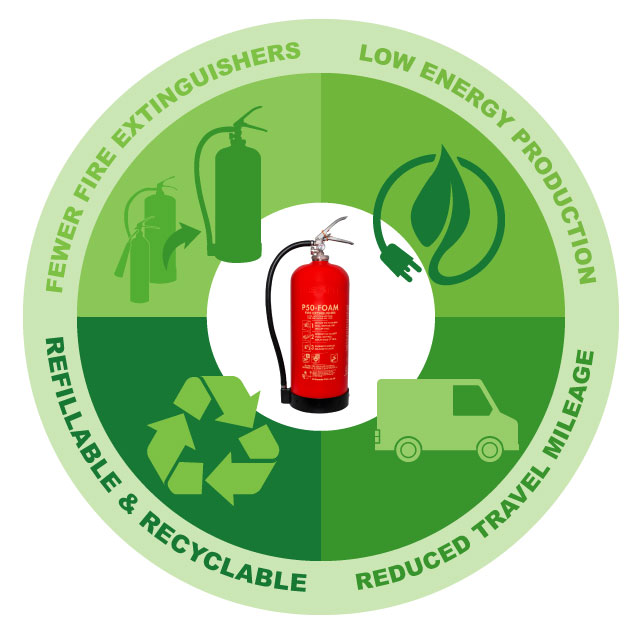 Long-lasting design vs traditional steel extinguishers
The construction of P50 Fire Extinguishers is unlike anything else on the market. Because of the materials used and the quality of assembly, the chemicals in P50 extinguishers last 10 years without requiring a refill. This compares favourably to the usual 5 years for a traditional steel extinguisher. Not only do they last twice as long, P50 extinguishers can also be refilled by the manufacturer after 10 years for an extra 10 years of service. Meaning that one unit can last for 20 years! The unit is then recyclable at the end of its useable life.
P50 extinguishers do not suffer corrosion like many traditional extinguishers and are UV treated to withstand the long-term effects of exposure to sunlight. This makes them completely weather resistant and durable, allowing them to be used for a longer period and in harsh conditions. The P50 Extinguishers are also made with marine-grade components. They have extinguishing ingredients that are kinder to watercourses and marine wildlife.
No annual servicing miles by an external contractor
The use of P50 extinguishers further reduces carbon emissions as there is no need for a servicing contractor to travel to you site each year to service the P50s. Each unit simply requires a quick visual check by a member of staff annually. This is fully compliant with fire safety legislation in the UK and is due to the unique construction of the units.
Reduce the number of fire extinguishers
P50 Foam Fire Extinguishers give better coverage than many other foam extinguishers. They are dielectrically tested, meaning that they can be used on live electrical equipment up to 1kV from a 1m distance. It is usual to find a combination of CO2 and water or CO2 and foam extinguishers in many settings. Traditionally, CO2 extinguishers have been used to tackle electrical fires. Foam or water are used for class A (Solid combustibles like wood and paper) or class B (flammable liquids). The P50 Foam Extinguisher can be used to tackle all of these types of fire, making it an ideal substitute for the CO2 and water/foam combination.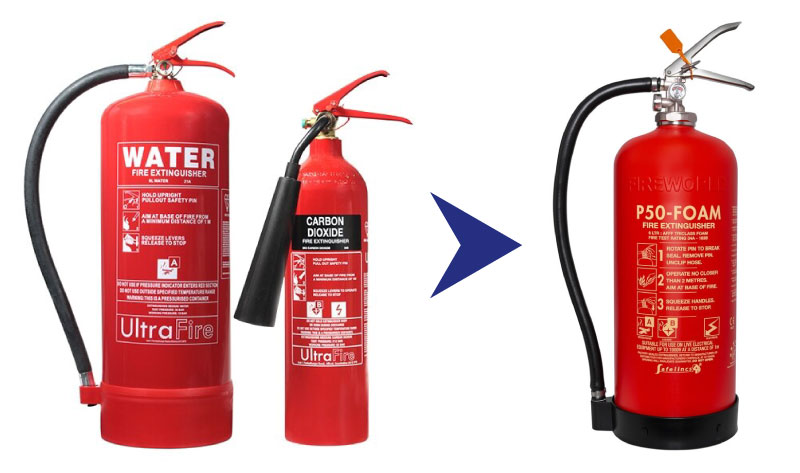 Reducing the number of extinguishers at your premises not only reduces cost. It is also a more environmentally friendly way of operating. The environmental benefits of the P50 extinguishers are industry-leading. They can contribute towards wider business goals such as carbon footprint reduction and environmental policy. Coupled with the huge cost saving benefits, businesses and organisations do not have to choose between eco-friendly vs cost. In the case of the P50, you can have the best of both worlds.