All homes that have a fuel burning appliance, such as gas powered boilers, heaters, ovens, stoves and open fire places, should have at least one carbon monoxide (CO) alarm. As reported in a recent ITV news article, carbon monoxide kills around 50 people every year in England and Wales. (The NHS website estimates this figure to be even higher at around 60 fatalities each year). The article quotes the UK Fire Services that incidents of carbon monoxide poisoning have risen by 32% over the last five years. Campaigners on the dangers of carbon monoxide state that over 40 million Britons are at risk. But you don't have to be one of the statistics.
Known as the Silent Killer, carbon monoxide is created from the inefficient burning of gas and solid fuel. Having your appliances properly serviced, maintained and tested is essential to ensure it is properly working, but this is not a guarantee that you will be safe. Faults can and do develop between inspections.
Even if your home is supplied and heated only with electrical appliances there are still risks. Carbon monoxide can seep through seemingly impermeable walls and can enter your home from a faulty appliance of your neighbour as well as from adjoining garages that house vehicles and petrol-fuelled equipment such as lawnmowers.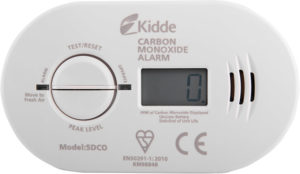 Carbon monoxide alarms are now more affordable, more reliable and more discreet than ever before. Every one of our CO alarm range is certified to BS EN 50291 Part 1 which defines the standard that CO alarms must be made to for use in the home. We even stock a range that are suitable for camping, caravans and travel when gas cookers and heaters are commonly used (these alarms are certified to BS EN50291-2).
For greater peace of mind an alarm with digital display, like the Kidde 5DCO carbon monoxide alarm, will enable you to see exactly what levels of CO are in your home, so you can check your appliances before CO levels become dangerously high.
For further advice or to discuss our wider range of carbon monoxide alarms, call today on 0800 612 6537.
See our full range of CO alarms