Prepare for the summer season by installing a CO alarm for caravans. Because caravans are a confined space, the potential for the build-up of deadly carbon monoxide gas is greater. If you have already fitted a CO detector, ensure that you carry out your pre-holiday safety checks. This should include checking or replacing the batteries and testing smoke, heat and CO alarms. It is also advisable to check when your alarms need replacing. Sensors in these types of alarms become less effective over time and will need to be replaced after 10 years.
Choosing a CO alarm for caravans and motorhomes
Not all carbon monoxide alarms are suitable for use in caravans or motorhomes. Choosing a suitable alarm is important because if the CO alarm you have isn't recommended for use in camping environments, you may not be alerted to dangerous levels of CO gas. Choose an alarm that is:
Kitemarked to British Standard BS EN50291-2
Certified for use in caravans
Suitable for wall mounting
Battery operated
CE marked
Kidde 7DCO
The Kidde 7DCO is ideal for caravans. It can be easily wall mounted using the fixings included in the pack. The digital display shows readings taken every 15 seconds and will indicate any changes to the level of CO gas detected. The alarm is supplied with 3 x AA batteries that are easy to replace when the warning chirp indicates that the power is low.
The Kidde 7DCO is certified for use in caravans and has a warranty for the full 10 year lifespan of the product.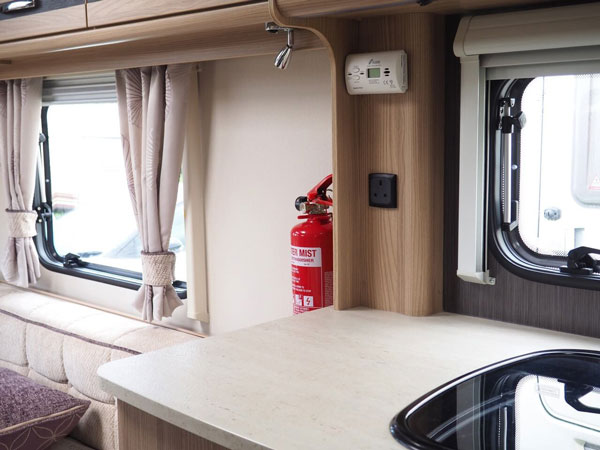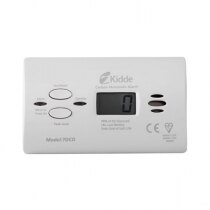 Kidde Carbon Monoxide Alarm - 7DCO / 7DCOC
FREE delivery
Product Life: 10 years
Battery: replaceable AA alkaline batteries included
Warranty: 10 year warranty
Displays CO levels from 10ppm
Peak Level Memory - recalls highest CO levels
Ideal for domestic use and camping, caravans & boats
Kitemarked to BS EN50291-1 and BS EN50291-2
Also suitable for the 2022 Welsh legislation
£14.49 ex VAT
£17.39 inc VAT
Buy Now
See all carbon monoxide alarms suitable for caravans
Discover more caravan safety tips