Working from home is often a new and exciting experience for many employees, but it also brings with it new responsibilities. There are a number of associated risks that are often overlooked or forgotten; risks that you wouldn't usually consider when working normally because someone else is responsible.
Home working combines all the safety hazards you would find in your normal working environment but instead places them all in your own home. Our Home Working Fire Safety Kit provides a number of essentials for dealing with these risks, giving you piece of mind.
One risk is the increase in the use of electronic devices and wiring, which is a serious fire hazard. In a rush to start work, sockets can easily be overloaded providing an opportunity for fire to break out. Electrical fires are still one of the most common causes of fire in the UK so limiting the chance of ignition is crucial.
Where possible avoid keeping flammable materials, such as paper, near wires and plug sockets. Make sure that your electrical appliances are correctly looked after – do the wires look to be in good health with no damage to the sheathing? The 1kg Powder Extinguisher in this kit will tackle the common fire risks in your home office, including electrical fires.
Working flexible hours when home working is very common and you may find yourself working at night as a result of this. All business workplaces should be fitted with emergency lighting but it is unlikely that you will have this in your own home. The Safe T Light Portable Emergency Light is ideal for home use and will provide you with adequate light to safely evacuate your home in an emergency, should there be a power failure.
Although many people working from home will be office workers, this kit also serves those in the craft or catering industry. The St John Ambulance First Aid Kit is equipped to deal with the most common accidents in and around the home.
People working from home should be encouraged to review the risks and take the appropriate precautions to prevent fires and accidents from happening. Those precautions should include having the means to detect and manage a fire should one occur. In our Home Working Fire Safety Kit, we have also included an optical smoke alarm and a fire blanket to help you cover all the common risks found in the home.
To assist with protecting yourself, your family and your home, there a few simple steps that we would recommend:
Ensure you have the appropriate fire detection and protection methods for yourself and your home, should a fire break out.
Regularly check the health of your devices and their wiring. If any wires appear to be damaged, that device should not be used.
Ensure all electrical devices are turned off and unplugged when not in use to reduce the risk of fire.
Equip your home with a first aid kit, as injuries are often unexpected and immediate treatment is usually the best course of action.
Know how you would evacuate your home in the event of a fire and practice this with all members of the household.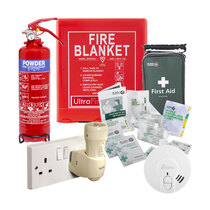 Safelincs Home Working Fire Safety Kit
Fire blanket included for emergency escape
Supplied with a portable powder extinguisher and emergency light
St John Ambulance first aid kit provides the essentials for minor injuries
Also supplied with an optical smoke alarm
Protect your home office / home working environment
£47.02 ex VAT
£56.42 inc VAT
Buy Now
For more information about our product range or to place an order, call today on 0800 612 6537.