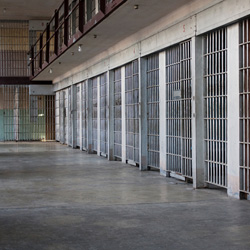 Several HM Prisons recently started the process of introducing the P50 service free extinguisher manufactured largely from composite plastics and aramid fibres (such as Kevlar). These kitemarked extinguishers are 100% corrosion proof and do not require annual servicing nor refilling after five years. In their first ten years of life they are simply visually inspected by the customer's own personnel. This reduces external visits from contractors and makes the annual vetting of contractors, their equipment and any new fire extinguishers by security personnel unnecessary.
P50s delivered to a prison can easily be x-rayed, as there is no metal cylinder preventing the scan. Equally, when after ten years the extinguishers are being refurbished, the replacements can be brought on site without necessarily opening the extinguishers. While the extinguishers can be refilled easily, a special clamp is required to  open the extinguisher, without this the inner and outer body spin against each other without opening the cylinder head. Unauthorised attempts to open the extinguisher for storage of drugs and other illegal items are hence made more difficult. The dual pressure indicators of the P50 are magnetic so security staff can easily verify if a gauge has been tampered with.
The body of the extinguisher, due to it being manufactured from spun fibre has a degree of elasticity which reduces risk of injury if a person is attacked with an extinguisher.
While the main application of the P50 extinguishers lies in the FM market, churches, offices and agriculture, prisons are now becoming an important market for this product. If you would like to know more about the P50 extinguisher, please contact Safelincs on 01507 462176 or email service@safelincs.co.uk