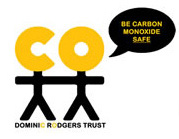 Safelincs are proud to support the Dominic Rodgers Trust in their Christmas campaign, launching on December 12th 2016, to increase the awareness of carbon monoxide poisoning. The initiative that is being run through First buses across Huddersfield, Halifax and Leeds will see a special promotion on the back of their tickets, reaching 1.5 million people.
Dominic Rodgers was 10 years old when he died in 2004 from carbon monoxide that seeped through his bedroom wall from a neighbour's faulty appliance. His mum, Stacey Rodgers, has been campaigning tirelessly since the tragic accident to raise awareness of carbon monoxide poisoning.
Carbon monoxide (CO) has no smell, colour or taste and can only be detected by a CO alarm. As the symptoms of CO poisoning mimic those of flue, headache, dizziness and feeling nauseous, this campaign is very timely. The campaign offers travellers on First buses a 10% discount on a FireAngel carbon monoxide alarm.
Read more information about carbon monoxide poisoning.