Many companies service their own fire extinguishers. They have trained a staff member through one of the UK's extinguisher servicing training bodies and purchase their maintenance tools through Safelincs. In a series of blogs we present these tools to our readers and customers.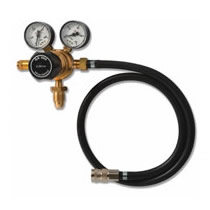 The nitrogen regulator and hose is an essential piece of equipment used by servicing engineers on stored pressure fire extinguishers.  When used with the correct adapter or recharge bar (matching the fire extinguisher make), the fire extinguisher can then be connected to a nitrogen gas bottle.  This allows for the fire extinguisher to be re-pressurised.
Safelincs offer a nitrogen regulator and hose with a working pressure of 20bar (300psi).  It also features a ¼" female quick-fit connector.  The regulator and all other equipment required for refilling and servicing fire extinguishers can be found in the tools and spares section of our website.