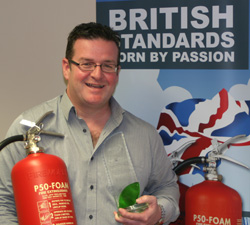 APEA, the UK's Association for Petroleum and Explosives Administration, has just awarded their 2014 Health and Safety Performance Award to Britannia for their P50 service-free fire extinguisher during the APEA Live 2014 Exhibition and Conference on the 5th November, where we exhibited the extinguishers jointly with Britannia. Safelincs is key marketing and distribution partner for the Britannia P50 extinguisher.
APEA represents the petroleum industry, including national regulators, local government authorities, oil companies, equipment manufacturers, forecourt operators and suppliers. Their yearly exhibition is visited not only by their members and suppliers but also by specialist sections from various fire brigades, fire service academies and other fire safety organisations.
The Health and Safety Performance Award at the conference was sponsored this year by Franklin Fueling Systems. The award is conferred to the organisation with the best health and safety system or programme.
After receiving the Award, Andy Spence, General Manager at the manufacturer Britannia in Norwich said,"This is a fantastic achievement for our business. This service-free fire extinguisher offers huge safety benefits for this industry and we are pleased that APEA has appreciated that by presenting us with this prestigious award."
This award for the kitemarked P50 extinguisher is one of many acclamations for the products. The P50 extinguisher has now achieved a strong foothold in the fire safety industry, with customers as diverse as councils, colleges, refineries, schools, insurances, office, farms and other industries moving to the service-free regime of the P50s. Britannia is currently investing further into an increased production line output, for example a new quarter of a million pounds blow-moulding machine for the inner chemical cylinder.
P50 extinguishers do not require visits from service engineer and do not need to be refilled after 5 years.  Instead they are visually inspected once a year by the customer and the check is recorded in the fire safety logbook. When Safelincs installs these extinguishers, our engineers first carry out a site survey and then install and certify the extinguishers. We then train local staff in the visual inspection of the extinguishers and issue a training certificate. We recommend that the customers subsequently notify their insurers about their changed maintenance regime. With budgeting in mind we offer a phase-in programme to ease the changeover from traditional extinguishers to the P50s. This ensures extinguishers are only replaced when they are due for refill or replacement.