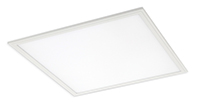 Suspended ceilings offer sleek designs and cover unsightly facilities, however, they also make the placement of traditional emergency lighting difficult, especially when trying to maintain the clean flow of the ceiling. The very best solution is to have lighting panels and emergency lights in the same design and size, offering the same light output in normal operation.
Safelincs can offer Arrian, a new LED Suspended Ceiling Emergency Lighting Panel system. This product range consists of regular and emergency lighting panels that look identical and have the same 3800 lumen output in maintained non-emergency operation. This allows you to install matching lights in all of your suspended ceilings, using emergency fittings where necessary and regular light fittings elsewhere. The panels measure 595x595mm, fitting into standard suspended ceiling apertures.
The white, powder coated finish on the Arrian emergency light panels gives an attractive, neutral look that works well with any suspended ceiling. The emergency lights are available with a choice of either 270, 360 or 450 lumen output in emergency mode allowing you to choose the appropriate emergency light level to meet your specific needs.
These units are manufactured using high quality 4000K 'cool white' LEDs which have a lifecycle of over 36,000 hours, meaning these fittings offer an exceptional lifespan as well as being naturally energy efficient. They can also be installed as either a maintained or non-maintained fitting, providing further flexibility and value. There is even a version designed to work with slave lighting systems with a range of input voltages to meet your needs.
The quality of light emitted by the panels is also exceptional, with a CRI (Colour Rendering Index- the industry measurement for light quality) rating of 80+. This, together with the panel's 3800 lumen output, ensures the light quality given out by these fittings is amongst the very best available.
With all of these benefits, plus the peace of mind given by Safelincs' exclusive 5 year warranty, the LED Suspended Ceiling Emergency Lighting Panel system from Arrian has quickly become a popular choice for anyone looking for smart and economical lighting for modern offices.
For further information or to place an order visit our emergency lighting section, call us on 0800 612 6537 or get in touch via support@safelincs.co.uk.