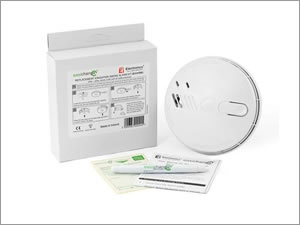 Smoke and heat alarms must be replaced after ten years when their useful life expires. When you have mains powered smoke alarms on your ceiling this usually means having to call out an expensive electrician to carry out the work. Now there is good news for anybody who has an EI or Aico smoke alarm installed on their ceiling and wants to change it after ten years:
Safelincs and Ei Electronics have developed a range of replacement smoke alarms branded 'easichange' which can be installed by yourself within less than a minute. The easichange alarms come supplied with the removal tool needed to take off the old smoke alarm safely from its base and with a new alarm head which can be installed by simply sliding it onto the existing base. An easily to understand manual is included as well as a documentation label for the fuse box.
The easichange alarms are manufactured by the original smoke alarm manufacturers, Ei Electronics and conform to BS EN 14604. They are sold exclusively by Safelincs.
Easichange replacement smoke alarms exist for the following models:
Ei141, Ei144, Ei146, Ei151, Ei151TL, Ei154, Ei156, Ei161, Ei164, Ei166
Update 03-02-2021: The easichange range of alarms has been discontinued in light of ongoing changes to the replacement models. Safelincs' support for customers continues with a simplified series of replacement smoke and heat alarms that will still be familiar to previous easichange customers. The new range of now also includes replacements for a selection of BRK, DETA, and FireAngel alarms.