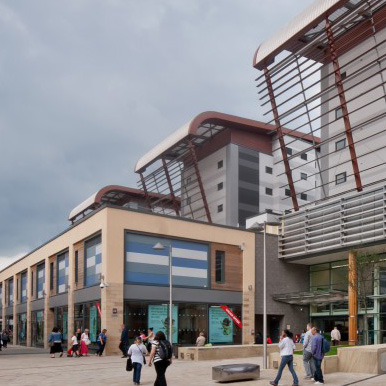 Northumbria University, home to over 35,000 students, has rapidly expanded over the last few years. Trinity Square student accommodation, part of the university completed in 2014, has been one of the largest building projects outside of London. Trinity Square can house over 1,000 students and offers a choice of studio apartments and accessible bedrooms.
This complex has over 300,000 square foot requiring over 4 800 emergency and standard lights throughout the building. The emergency lights were required to illuminate exit routes and comply with BS5266-1 : 2011. As energy efficiency and sustainability were major considerations, all lighting systems had to adhere to strict efficiency specifications while remaining within a clearly defined budget.
Round slimline emergency lights XL and models of the same with LED were installed in bedrooms, staircases and corridors throughout the complex.
The units were supplied with a purpose made tray designed specifically for the Trinity Square lighting system. The bedroom lighting had to fulfil comfort and diffusion standards to CIBSE recommendations. The lighting units were therefore fitted with special diffusers to improve light transmission and to ensure wellbeing.  Despite using 26W lights instead of the standard 28W in the non-LED lights, the light transmission was increased by 54% compared to standard lights with standard opal diffusers.  Well balanced light significantly improves concentration and reduces fatigue.
Should you require information about emergency lighting and the options to create bespoke emergency lighting solutions, please contact us on 0800 612 6537