Safelincs has launched a new fold-out fire escape ladder for private and commercial use. The Saffold escape ladder is fitted to the outside of a building and, when not in use, folds into a neat, drainpipe-like fixture. This appearance makes it unobtrusive to the eye, while unauthorised access is prevented with a pin situated at the top of the ladder, locking it in position.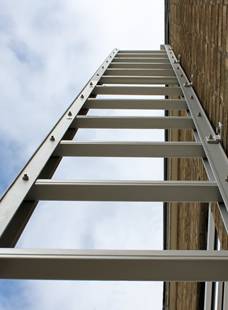 The ladder design is based on the successful Modum fire escape ladder with a number of improved or new features. All man-made fibre components have now been replaced with stainless steel and the rungs and extension handles have been re-designed, making them easier and safer to use.
The same 15 year warranty applies and the new Saffold segments can be added to existing Modum installations. The Saffold ladder is supplied in modular segments, which can be connected to a maximum 10m in length.
The new fold-out ladder can also be used as an access ladder for flat roofs or engineering platforms. An optional key lock can also be added to add additional security if required.